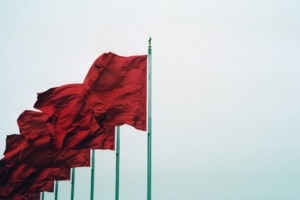 While we recently talked about how to find a business broker and have often shared profiles of our team here at Apex, it's also important to know what to look out for when considering a business broker.  A business transaction is one of the most important you will go through in your life, so it pays to watch out for these.  Even one of these red flags could end up being very costly for you.
Lone Wolf
The best brokers are affiliated with a professional organization (like IBBA) or have a certification (like a CBI).  They also work with other brokers to help on deals that require special expertise.
We're not saying you have to be professionally affiliated or have certifications to be a good broker.  But we are saying that those brokers who are affiliated tend to be better networked and current with the latest information, and those who are certified have the knowledge to protect you and your interests in a transaction.
No Experience in Your Industry
We will be the first to say that everyone who is a specialist in a particular industry had to, at one point in the past, do a first transaction in that industry.  
We're not saying you can't take a chance on someone promising.  We are saying to beware of those who unreservedly claim to be able to sell your business guaranteed, yes sirree, despite having zero experience in that industry.
No Process
Most sellers want to get their businesses marketed as soon as possible, maybe even yesterday if they can.  Many buyers want to be introduced to potential businesses immediately.  The best brokers won't do either of those things.
A seasoned broker isn't going to engage your business for sale without a look under the hood themselves.  They may often advise you to get a professional valuation in addition to offering you some estimates of their own.
An experienced broker isn't going to introduce you to potential buyers without making sure you're financially qualified.  Otherwise we're just wasting everyone's time.
If a broker can't articulate to you how he/she will take your business to market, look elsewhere.
Isn't Willing to Say "No"
We often talk about the coaching aspect of brokering and part of that is setting proper expectations.  We can't do that if we never tell you "no."
Isn't Currently in Process On Any Other Deals
Our business is all about pipelines.  Brokers don't put all their eggs in one basket.  They work multiple deals across multiple deadlines (with multiple personalities!).  While it might seem like a dream scenario to be the "only client" of a broker, this is a red flag.
Charges an Upfront Fee
We get paid for results.  Be wary of anyone who asks for a fee before they've done anything for you.
Has No Reviews or Testimonials
We love hearing from our clients after transactions.  If a brokerage has no reviews, it indicates that they don't (yet) have people willing to take the time to rave about the experience.  You want an experience to rave about as well, so no reviews = red flag.
As we said above, even one of these red flags should be a reason to avoid a broker.  More than one, run for the hills.  It doesn't make that broker a bad person, just probably bad for your transaction (or anybody else's for that matter).
We've got a number of great brokers on our team with none of these red flags.  Learn about them here.
https://www.kcapex.com/wp-content/uploads/2021/06/zachary-keimig-Uizd4Zd41Ww-unsplash.jpg
1280
1920
Apex Business Advisors
https://www.kcapex.com/wp-content/uploads/2015/06/ApexBusinessAdvisorsLogo-216x130.png
Apex Business Advisors
2021-07-19 06:00:36
2021-07-21 15:51:12
7 Red Flags to Watch Out for When Hiring a Business Broker