What to Look For (and Avoid) in a Business Broker Listing Agreement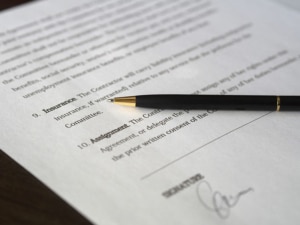 Behind all our business broker listings, there is a business broker listing agreement. This spells out mutual responsibilities between us and our clients. As with any contract, this is something that deserves your undivided attention, as we've said many times before that a business transaction may be one of the most important events of your life. In this article we'll discuss the various provisions of any given business broker listing agreement and what you should consider before signing one.
Why Have a Business Broker Listing Agreement?
The short answer? To protect you, your business, and your broker. Remember that ultimately, contracts are not there in case everything goes right, but in case even one thing goes wrong.
Key Elements of a Business Broker Listing Agreement
While every agreement may vary, these are the elements you must have for any serious agreement to list your business.
Duration. This is the amount of time your business is listed for. As we've said in a previous article, selling a business can take between two months and two years.

Under twelve months: this is often pitched as offering more flexibility for the seller, but really, it puts undue pressure on a broker and as we'll point out below, it may not really offer you the flexibility that it promises.
At least twelve months: this is pretty standard, as this recognizes that (and mentally prepares you for the fact that) this is a marathon, not a sprint.
Keep in mind that just because your engagement has passed doesn't mean you won't owe a commission to your broker. We keep records of everyone we introduce to a potential seller and if they conclude a transaction within a certain time period of the end of the engagement, a commission may still be owed. That's why you need to be very clear on the details here, not just for your sake, but for your broker's.

Right to Sell. In this section you are going to give us the exclusive right to represent you in a business transaction. We've talked before about the sorts of things we do to market your business.
Representation. Are you who you say you are? Do you actually own the assets you are purporting to sell?
Protection/Indemnification Clause. Should anything go wrong during the transaction, this section addresses the legal and financial rights and obligations of all parties.
Dispute Resolution Terms. Should significant problems arise during the transaction, how will these problems be cured? Will you use arbitration or litigation?  In which jurisdiction will the dispute be dealt with?
Commission. This varies per broker and agency but here at Apex we settle this at closing.
We're Here to Help
In a world in which we so often click past "terms and conditions" because we don't want to bother to read them, it can be hard to sit down and work through a document like a business broker listing agreement. But you don't have to do it alone! We're here to help and are want you to be comfortable as you pursue a transaction. Give us a call today!
https://www.kcapex.com/wp-content/uploads/2020/10/pexels-pixabay-261679web.jpg
600
800
Apex Business Advisors
https://www.kcapex.com/wp-content/uploads/2015/06/ApexBusinessAdvisorsLogo-216x130.png
Apex Business Advisors
2020-10-13 10:17:43
2021-03-10 13:03:31
What to Look For (and Avoid) in a Business Broker Listing Agreement