Know Your Broker: Chuck Campbell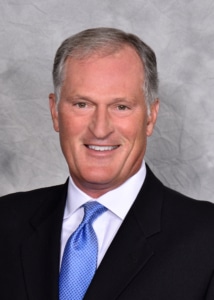 When Chuck Campbell worked on his first deal at Apex, his client got seven offers in the first four days.  We tried to remind him that this wasn't how every deal was going to go, but Chuck knew that instinctively.  Even though he's one of our newer brokers, he's been preparing to be a broker for many years by his career trajectory.
Chuck got a degree in business administration from KU before getting a Masters in Real Estate finance from UMKC.  After a stint at Marion Labs he went on to work at Loch Lloyd, where he helped create a neighborhood house-by-house.  Chuck loved interacting with buyers, builders, architects and creating a community that mattered.
He moved onto what seemed to be an exciting venture: supervising a beta version of a factory that hoped to create a new industry standard.  Once that beta was perfected, the strategy for building more in other locations around the US would be his main task.  As it turned out, the beta never achieved the new standard it hoped to and Chuck learned a valuable lesson.  One of the major backers of the project had just had a very successful exit and fell into the fallacy that many business owners do: well, since I sold this business, I can do pretty much any business now!  It's much more humbling (but more realistic) to realize that success in a business venture only means that: you were successful in that venture.  You've got to do your due diligence and put forth the effort for anything else that follows.
He came to Apex actually looking to buy a business, but in the middle of the first conversation, realized it might make more sense to get on the other side of the transaction and become a broker himself.  He jumped in with both feet, joining the IBBA and completing his CBI certification.  He's been off to the races since.  
When asked if there was a niche he preferred, he noted that he prefers to stay agnostic: "All businesses operate on the same principles, and for me, it's closing deals I love, not just deals in certain industries."  
One way those deals happen is by old fashioned face-to-face conversations.  Chuck really enjoys taking the time to get to know someone and seeing how he can help or offer connections to others in his network.  That said, sometimes even the best built relationships won't get a deal to the finish line.  Chuck recalls one particular case in which he thought he had found the perfect business marriage.  In fact, he had built all the bridges himself.  He identified who the best acquirer was for a business, developed a relationship with someone who would be able to make an introduction, and started a conversation.  But when it came time to put together an LOI, the buyer made a terrible offer, far below asking and a lot in highly complicated earnouts.  Despite Chuck explaining that this wouldn't go over well with the seller, the buyer came back with an even worse second offer.  Needless to say the deal fell apart, but Chuck had learned two valuable lessons:
A deal is never done no matter how "good it feels" during the process

Be wary of negotiators who need to prove how clever they are: they often out-think themselves more than anyone else
Chuck enjoys travel, entertaining, and golf.  He occasionally heads down to Texas to visit his children, who live in Dallas and Austin, otherwise he and his significant other like to head to La Quinta, California, where they have a vacation home.
When asked his advice for buyers and sellers, Chuck said, "Find balance between your head, heart, and gut, and don't lose perspective on the overall objective."  As for Chuck's overall objective, he says it's always to make sure that his clients feel proud for trusting him with one of the biggest events of their lives: a business transaction.  Earning that trust every day is what gets him up, genuinely excited, every morning.
If you'd like to learn more about our awesome team of brokers, you can read their profiles in our Know Your Broker series.  You can speak with any one of them by giving us a call today!
https://www.kcapex.com/wp-content/uploads/2021/11/Chuck-Campbell-featured.jpg
600
800
Apex Business Advisors
https://www.kcapex.com/wp-content/uploads/2015/06/ApexBusinessAdvisorsLogo-216x130.png
Apex Business Advisors
2021-11-22 06:00:08
2021-12-03 10:13:51
Know Your Broker: Chuck Campbell