Know Your Broker: Ryan Wenrich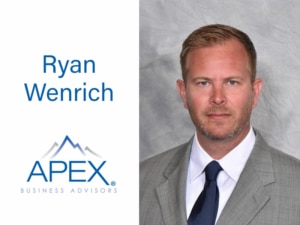 Having been a business owner multiple times, Ryan Wenrich is another one of our brokers here at Apex for whom business ownership isn't a theory, but a way of life.
Ryan was born and raised in Garden City, Kansas, but had plans of living in a completely different world.  His undergraduate degree was in finance and international business, with some study abroad time in Japan.  He had planned to return there to start work and a career, but there was a girl, and she had no plans in Japan.  He made the decision to stay stateside.
Without a corporate career to build, Ryan decided to buy some restaurants from his father.  His dad had been a CPA and to diversify his income had bought some restaurants as Ryan was growing up.  Ryan managed to talk a brother into going in with him on it.  They had some early success and before he knew it, Ryan had restaurants, a property management company, an accounting firm, and even a florist shop!  He was serving on multiple boards and felt spread a mile wide and an inch deep.  He made the decision to scale back a lot.
Most of the businesses got sold but some of them were simply closed and with all that restaurant experience he took on a role as Director of Food and Beverage for a local Kansas City business with over 60 different food and beverage concepts.  While he enjoyed the work, when Covid-19 hit, he was let go right away and he pondered what he would do next.
We had actually helped him sell a business some years ago and he had kept in touch with us.  Knowing we are always looking for solid team members, Ryan reached out to have a discussion.  What he loved about the possibility of brokering was the chance to exercise his entrepreneurial muscles: he would get to look at all kinds of businesses and talk with owners, but he would also be back in business ownership, in a way, by developing his broker practice.
Though he is a newer member of the team he's already got some great stories.  One of them included a deal that almost fell apart at the last moment.  The buyer needed a license in order to operate the business he was purchasing and during the diligence process it became clear that he would not be able to obtain the license, which then affected the amount of the loan the bank was willing to finance.  Ryan got everyone back to the table and after a friend of the buyer who could obtain the license was brought in and cut into the deal, and the seller agreed to carry the financing that the bank would not, the deal went through.  "It's all about getting everyone crystal clear about what they want to achieve from the transaction," Ryan noted.
On the other end of the spectrum, before deals are even in the works, Ryan finds that a lot of owners have unrealistic expectations of what their business will fetch in the marketplace.  As we always say, a business is only worth what someone is willing to pay for it, and by the time you get to a realistic valuation and the tax implications, a lot of sellers can get discouraged and say, "Well, I'll just keep doing what I'm doing now and earn this money."  At that point Ryan tries to get to the root of the issue by asking what'll be different X years from now if they keep on that path.  A business either sells or closes, and given that 99% of business owners have never done exit planning, sometimes our first conversations with them can be a difficult serving of hard truths.
While he's done a few deals with dental and optometry practices, Ryan is resisting a specific niche: "I'm a generalist and want to see every type of business that's out there."
When he's not working with buyers and sellers in KC he's at his home in Topeka where his eight year-old daughter lives. What time he has after that he likes to spend outdoors: skiing, sailing, snowboarding, kayaking, mountain biking, and trail running.
https://www.kcapex.com/wp-content/uploads/2021/11/Ryan-Wenrich-Featured.jpg
600
800
Apex Business Advisors
https://www.kcapex.com/wp-content/uploads/2015/06/ApexBusinessAdvisorsLogo-216x130.png
Apex Business Advisors
2021-12-06 06:00:54
2022-05-16 11:47:06
Know Your Broker: Ryan Wenrich