Book Club #26: Traction, by Gino Wickman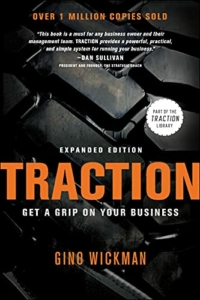 We've already alluded to Gino Wickman's Traction here on the blog before by writing about one of the key elements of the book: the Entrepreneurial Operating System (EOS).  But there are so many other valuable nuggets of wisdom in the book that we wanted to make sure we also did a book club article to highlight just a few of its most valuable ideas.
Build Your Leadership Team
A business that is built to sell has a solid leadership team, even if that's only composed of one or two other non-owners.  Wickman lists five abilities that everyone in your leadership team should have:
Simplify

— "eliminating complexity and reducing everything to the essential"

Delegate

and

Elevate

— "freeing and elevating yourself to do what you do best, and doing the same for every person in your organization"

Systematize

— "documenting and getting everyone to follow the essential procedural steps in your company's core processes"

Structure

— "defining and organizing the positions in your organization to reduce complexity and increase clarity, communication, and accountability"

Predict

— Choose the right short-term path (issues over the next 90 days) vs long-term challenges (issues over 90 days) 
Take Risks
Growing businesses have a healthy approach to risk.  Wickman lists three ways to approach it:
Be

open-minded

— whether you're looking at how

NFTs

might make sense for your business or the possibility of

remote work for your employees

, you don't reject ideas out of hand just because you don't understand them or they make you uncomfortable.

Be

growth-oriented

— "if it ain't broke don't fix it" is a truism, but so is "if you're not growing, you're dying."  Be willing to look at different ways your business can grow that you haven't tried before.

Be

vulnerable

— part of why risk is scary for all of us is the possibility that we may lose something or "go backwards."  But those who are willing to take risks don't banish fear.  They manage it by being willing to be uncomfortable, which includes being vulnerable.
Know Your Role
Michael Gerber's E-Myth was famous for parsing the entrepreneur, the technician, and the manager as hats all business owners must wear at different stages of the business.  The two titles that Wickman's action-oriented book offers are visionary and integrator.
The visionary is a dreamer, strategist, and planner.  The integrator is the executor, the "get things done" person.  Every business needs both, and very rarely are both roles well contained in one person.  In the press it's very often the visionary that gets the credit (think Steve Jobs) and rarely the integrator that's even mentioned (think Scottie Pippen).
A lot of frustrations in business partnerships can originate from a failure to understand the necessity (and equality) of both of these roles in a successful business and a subsequent failure for said integrator/visionary to stay in respective lanes.  
Numbers Matter
One of the most valuable ideas of Traction and the EOS is the scorecard, the idea that you can, at a glance, through a set of numbers and metrics, see where your business is at the moment and where it is headed.  Many business owners know that information intuitively by working every day in the business.  But that's not a sustainable business practice; it's not something that can be packaged and sold.  
Numbers should be known and shared by everyone in the business to make real progress.  Having relevant numbers arranged in a regular scorecard allows you to get things done in the present and plan for the future.  When those numbers are integrated with a leadership team that is tracking short-term and long-term issues, it means you also have a chance to catch items that fall through the cracks.
Some of the best people to help implement the principles in Traction are business coaches.  Thankfully, we know a few. Give us a call and we can connect you!
https://www.kcapex.com/wp-content/uploads/2022/03/41SaI4FKvLLweb.jpg
266
333
Apex Business Advisors
https://www.kcapex.com/wp-content/uploads/2015/06/ApexBusinessAdvisorsLogo-216x130.png
Apex Business Advisors
2022-03-14 06:00:10
2022-03-05 09:42:38
Book Club #26: Traction, by Gino Wickman