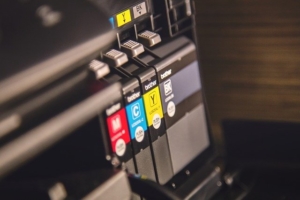 John MacInnes started Print Audit in 1999. He aimed his software at anyone who would normally charge people for printing costs, like law firms or schools. Those businesses were often very aware of photocopy costs, but not of direct printing costs, and the software Print Audit provided allowed those individual prints to be properly assigned and then billed to clients.
As time went on, Print Audit also put software in place to monitor ink and toner levels so that those companies with copier leases would experience less friction with service and refill calls. Instead of having to call up the service provider telling them that the machine was malfunctioning or that toner needed to be refilled, the software proactively notified dealers so that service interactions were enhanced and a lot of time and money was saved, by both the dealers and their customers.
Too Many Eggs in One Basket
The company was growing well, but a latent problem in their customer distribution forced them to make some drastic changes. One of their customers, Ricoh, was responsible for 70% of overall revenues, which was roughly $600,000 a month. Ricoh made a strategic acquisition and lost focus on this particular component (software helping to manage service calls) of their business. John noted that some of the people who were added to Ricoh during the acquisition were tasked to Print Audit, but they didn't really know the company and in the meantime the $600,000 a month had plummeted to nearly $60,000 a month.
John had two insights: focus on the individual dealers rather than the corporate office, and switch to a subscription model. He did just that, not just making a better version of the software but making it a subscription service, and adding a number of key peripheral services that created a larger base of clients worldwide.
Focus on Retention
He also did something unexpected for a tech business: work on winning the retention game. As we discussed in an article about recurring revenue businesses, retention is a big part of success. John and his team made sure they were spending 80% of their time satisfying existing customers while spending the remaining 20% of time on adding features that would lure in new customers. At the time of acquisition, Print Audit had a 99.5% retention rate, so John figured if he wasn't going to sell Print Audit, he might have another company in the stable: one that helped other companies improve their retention rates!
As it was, John had been building Print Audit for 20 years, originally on bootstrapped friend and family funds of $75,000. He saw that the industry was in consolidation mode, that there wasn't room for too much more growth over time. Even though he had restructured the company in the aftermath of the decline of the Ricoh account, people were simply not printing as much as they used to… not simply because of the number of ways that paper was being saved digitally, but because of growing pressure for large companies to be more environmentally responsible, and printing on paper was one of those targeted areas.
Software as a Service
Interestingly, because he had transformed the company into a SaaS (software as a service) recurring revenue model, he became a smart strategic purchase for a large firm. While he says he wasn't excited about the 2,000 items that he was assigned by the buyers for due diligence, he had a lot of support from his broker and banker to keep him on task and positively oriented towards a fruitful conclusion.
Key Lessons:
Never be lopsided.

  While John was alert and talented enough to pivot his company while it was in the midst of a revenue free fall, he should never have allowed one customer to be 70% of revenues.  Anytime any customer is more than 15% of revenues, you should be concerned and take the opportunity to diversify.

Innovate in your space.

  While the copier and print industry was probably slow to change because of its high capital costs, John invested in improving his software when it already was an industry leader.  That allowed him to grab even more uncontested market space.

Don't be afraid to own a category that isn't a core competency.

  Customer retention of a subscription product wasn't a core competency of Print Audit…until it was.  John made it a priority, invested the people and resources in that direction, and the numbers say it all: 99.5% retention rate.  
https://www.kcapex.com/wp-content/uploads/2019/12/printer-933098_640.jpg
426
640
Apex Business Advisors
https://www.kcapex.com/wp-content/uploads/2015/06/ApexBusinessAdvisorsLogo-216x130.png
Apex Business Advisors
2019-12-12 06:00:08
2019-12-06 13:31:56
Case Study #34: Printing Profits