Case Study #77: A Hole-in-One 20 Years in the Making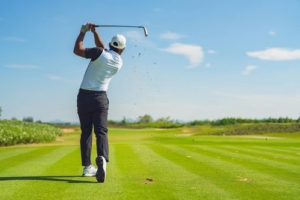 If you ask Ian Fraser, co-founder of Tour Experience Golf (TXG) how he prepared to run his company, he would tell you that he spent 15-18 years being underpaid. He used that time to invest in himself and learn everything about his industry, golf club fitting, as well as the basics of business. It would pay off years later in a handsome exit.
Ian does have a Scottish accent, which doesn't hurt in the world of golf, but he notes that while an accent may get you in the door, it's the hard work and reputation that can keep you going. That reputation got him noticed by an investment group who made him an offer but it was clear that Ian's ambition didn't match the investors' risk profile and Ian ended up partnering with a 50/50 partner with the caveat that until all the original investment had been paid back, the other partner could hold on to 30% of Ian's 50% equity position.
Golf Club Fitting
If you're not a golfer, you might not realize that there's an entire universe of custom-fit golf clubs. Anyone who has experienced the difference between "off the shelf" clubs and custom ones will tell you that custom ones help you play better and enjoy the game more. Ian built a reputation for fitting and had people flying in from all over the world to work with him.
But he knew to build a business, he needed to scale himself. There were three tools he used to hire the right people:
Hire for EQ instead of IQ

. Ian felt he could always teach the technical side of things, but being empathetic to the customer and his/her needs? That was something you wanted right away in a team member.

Choose the customer over the company

. In the interview process Ian would offer scenarios in which the business, not the client, would win in a given scenario. Tied back to the point with EQ, Ian selected those who would choose the customer first. That was the ethos of TXG: serving customers first, profit comes as a result of that great service.

Consult in an open space

. By using an open space instead of a closed room, Ian was able to have his trainees on either side of him, working with their own customers, and they could learn from and feed off each other on every consultation.
YouTube
Another winning strategy Ian deployed was YouTube. The channel has well over 200,000 subscribers, and because Ian spent every Sunday and Monday filming for 2 years, including a Live Q&A every Monday, he built an online reputation and customer funnel that was unstoppable. While most people spend money on marketing, Ian was actually getting paid for his marketing, as it was responsible for $30,000 in revenue per month in addition to doing what great marketing is supposed to do: bring in clients.
Before too long, TXG was at $5M annually, with a waiting list of 1,500 to get in for a fitting.
Sale
The original acquisition offer wasn't respectful for the sort of hard work Ian had put in and the acquirer implied that they were going into the marketplace "with or without" Ian but they discovered, as many had before, that you can't just throw money at YouTube and you can't just buy reputation. Ian had won in the video space because he had been consistent and the other better funded companies didn't seem to include consistency in their channel rollouts.
As the acquirer realized it would be much harder to build what Ian had already done over so many years, they decided to buy that sweat instead of trying to do it themselves.
Lessons
Ian intentionally built his business over many years. Three takeaways for those looking to exit well:
Duplicate yourself — by duplicating not just his technical knowledge, but his approach to customers, Ian was able to scale his company beyond his efforts.

Deliver

content

— Ian knew that YouTube rewards quality and consistency. He delivered both and got paid for his marketing efforts instead of having to spend for them.

Know your worth — when the acquirers tried to lowball TXG, Ian stood firm. As those acquirers started to get a better sense of the real value of the company, which would take a lot of time to duplicate, they realized their number was wrong.
We definitely have some golfers in the office, maybe even some with custom clubs! But even our non-golfing brokers can help you sell a business you've spent many years building. Give us a call.
https://www.kcapex.com/wp-content/uploads/2023/08/golf-swing.jpg
334
500
Apex Business Advisors
https://www.kcapex.com/wp-content/uploads/2015/06/ApexBusinessAdvisorsLogo-216x130.png
Apex Business Advisors
2023-08-28 06:00:06
2023-08-02 15:40:18
Case Study #77: A Hole-in-One 20 Years in the Making