Case Study #80: A Bootstrapped 8-Figure Exit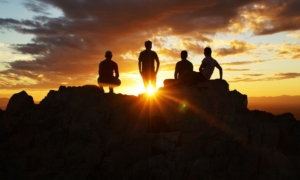 As a refugee during the Gulf War, entrepreneur Lloyed Lobo has faced challenges that shaped his perspective on community and support. The values instilled by his family and early life experiences left a lasting impression on his approach to both business and life.
Lloyed cofounded a software application called Boast AI that's designed to simplify the process of applying for R&D tax credits. After bootstrapping their first few years, Lloyed and his partner sold the majority of the business for a cool $23 million.
The journey from bootstrapping to an eight-figure exit was filled with the highs and lows familiar to every startup founder. Let's take a closer look.
The Power of Growth Equity
For Lloyed and his co-founder, taking the leap with growth equity meant making a commitment to the company's future. With this decision, they moved forward on a path to grow and expand while taking on the associated risks.
Growth equity is a crucial factor in scaling any startup. It provides the necessary capital and support to accelerate growth. This phase often involves investors taking a significant stake in the company, which can lead to a shift in the dynamics of decision-making and company culture.
The Turning Point
As more time went on, Lloyed realized that he was no longer aligned with the company's direction. As the business shifted towards a more structured approach — and grew from a bootstrapped startup to a full-fledged corporation — he grappled with the challenges of adjusting to this new dynamic.
The toll on his mental health during this period was significant. Stress, pressure, and internal conflict pushed him quite close to the brink, and he began to reevaluate his priorities.
Lloyed ultimately decided to move his family to Dubai. Many other Gulf War refugees had moved there and he knew they would be welcomed. The massive change in environment proved to be transformative, and was just the breath of fresh air he needed.
When in Dubai, Lloyed had to make a hard decision. Although it was difficult to walk away from a company that he helped build from the ground up, it was time. The business simply didn't align with his values anymore. After many talks with the board and his co-founder, the pair decided to sell their shares.
Surrounded by his friends and family, he rediscovered what truly mattered: community.
Reconnecting with the Importance of Community
Lloyed's time in Dubai led him to realize the profound role that community plays in our lives. He recognized that it had been a constant thread throughout his journey, from his refugee experience to the challenges of entrepreneurship and his battle with mental health.
Today, Lloyed has taken on a new role: author. His debut, From Grassroots to Greatness: 13 Rules for Building Iconic Brands through Community-Led Growth, provides insights and practical advice for those who wish to harness the power of community.
Key Lessons
While Lloyed's exit isn't as traditional as some others, there remain some key lessons to learn from:
Reevaluate, refine, and edit: When Lloyed realized that his company no longer aligned with his values, he did something about it. It's a reminder to constantly reflect on where you are in life and in business. If you're unhappy, make a change.
Community is crucial: When the going got tough, Lloyed was able to lean on his friends and family for support. Strive to do the same and surround yourself with people willing to cheer you on — and bring you back down to reality when needed.
Give without expecting to get: Over the course of his entrepreneurial journey, Lloyed realized that giving without expecting anything in return can lead to great things. Selfless giving has become a central theme in his life and it's worked out in his favor.
Through his work, Lloyed continues to pay it forward, providing a valuable resource for others in search of mentorship and insights.
Interested in exiting your own bootstrapped company? We can help. Give us a call today.
https://www.kcapex.com/wp-content/uploads/2023/10/aaker-RYjRmOQtlUA-unsplash.jpg
1152
1920
Apex Business Advisors
https://www.kcapex.com/wp-content/uploads/2015/06/ApexBusinessAdvisorsLogo-216x130.png
Apex Business Advisors
2023-11-11 06:00:08
2023-10-25 10:29:27
Case Study #80: A Bootstrapped 8-Figure Exit