Case Study #37: Built for Communities, Acquired by Cracker Barrel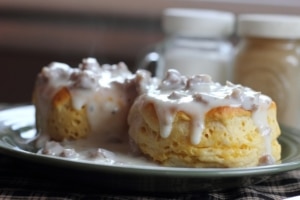 Early on his journey of building Maple Street Biscuit Company, Scott Moore had to offer a personal guarantee for some of the restaurants that put his home at risk. But he had confidence in the brand, his team, and himself to add to the willingness of a spouse to be exposed to that risk, and less than a decade later that confidence and willingness to take risk was vindicated in a $36M acquisition by Cracker Barrel.
Comfort Food…with an Opinion
Maple Street bakes their biscuits fresh every day with flour and real butter.
On top of that base they have a sausage or shiitake gravy (again, made fresh in house), all-natural never frozen chicken, and house made jams and jellies. While those sound like typical ingredients, their dishes are anything but.
Their "Squawking Goat" got featured on the food network: fried goat cheese and pepper jelly on top of that chicken and in a biscuit. Scott noted that he knew the flavors were familiar but he wanted people to say, "I've had those flavors before, but never like that" and that would make Maple Street a destination, not just another diner.
Values
At the core of Maple Street's hospitality is what they call "gracious service."
This is a value that flows from Moore's top level philosophy that a business has a right to do good in the community and gracious service is a way to "earn" that right to do good in the community every day. This isn't a formula in which someone introduces themselves by name and comes to the table to check on you (Maple Street is a fast casual concept anyway, so you need to bus your own table when finished) but rather a level of care for the food and the customer that shines through.
This even comes through in the words that are used. Locations are not called "restaurants" or "storefronts" but rather "community stores" which are led by "community leaders," not managers. The community helped give Maple Street its name and even helped name its dishes (like the aforementioned Squawking Goat) so this is another value the company lives and doesn't just parrot.
Growth
When Moore was putting together the concept, he worked off three different P&L projections. One was simply "average" for the industry. One was premised on doing really well. The last was half of the average.
His idea was that as long as they could at least hit that last projection, the "half of average" one, they could get the business going. He focused on a lean team and profitability from the beginning, and they leveraged an interesting system to grow the concept quickly, using a joint venture vehicle in which someone would put up $150,000 and then enter into a 49/51% partnership with Maple Street for that location. With Moore's focus on Lean principles and responsible growth, Maple Street had 28 company-owned and 5 franchise-owned locations in 7 states at the time of acquisition.
What's an important part of understanding how compelling Maple Street's business was to Cracker Barrel was the fact that they already had a biscuit restaurant concept called Holler and Dash in their portfolio. This acquisition is another example of "if you can't beat 'em, join 'em" and the power of "build it and they will come."
Key Takeaways
Culture truly matters – it's not just hooey that people give speeches or write books about. It's what the best companies always have under the hood.
Grow responsibly – While Scott had his own skin in the game by personally guaranteeing the first loans of the company, he also made sure that strategic partners who built out restaurants did the same. By staying lean he made sure the money could be invested in growth instead of expense accounts.
Stand out – the "comfort food with an opinion" angle hit big and in the first weeks of the first restaurant opening and he saw an hour long line snaking out the door Scott knew his hunch had been right.
https://www.kcapex.com/wp-content/uploads/2020/04/biscuit-472410_640.jpg
426
640
Apex Business Advisors
https://www.kcapex.com/wp-content/uploads/2015/06/ApexBusinessAdvisorsLogo-216x130.png
Apex Business Advisors
2020-04-30 06:00:19
2021-03-10 15:44:07
Case Study #37: Built for Communities, Acquired by Cracker Barrel