Case Study #74: When the Market Changes, Pivot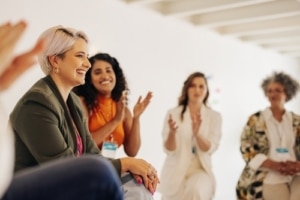 When Jaclyn Johnson had a $40M all-cash deal for her events company, Create & Cultivate, implode at the 11th hour, she didn't fall apart. She took the lessons she learned to get an 8-figure exit just a couple years later.
Side Project Becomes the Main Project
When Jaclyn created Create & Cultivate, she already had a marketing agency that kept her busy most of the time. What she was looking for was not in the marketplace: a community specifically for female entrepreneurs. It was a side project but also functioned as a development tool for her agency. The project wasn't making money, but it wasn't losing it either. Jaclyn partnered with corporate sponsors and charged a minimum fee in order to focus on building a community rather than an income stream.
When her agency was acquired by a strategic buyer, she was on the hook to consult with the new owners for a year, but in the meantime she also brought in a strategic co-founder for Create & Cultivate and together they decided to take this fun project and really go for it. Soon they were co-branding events with companies like Marriott (who were excited about bringing a lot of women to their newly redesigned properties). These events served as feeders for larger conferences run by the C&C team.
The Deal Blows Up
Jaclyn's co-founder was going through a transaction for her own company and told Jaclyn it might be a good time to exit from C&C also. Everything was on track until signing day, when the deal fell apart. Keep in mind that Jaclyn had given up the lease on her office space and told senior team members about the sale. The big problem? Jaclyn was too involved in the day-to-day operations and hadn't removed herself from the scaffolding. The buyers were (understandably) worried about what would happen if she disappeared. The $40M all-cash offer, which represented a strategic valuation of 20X EBITDA and which would make her the head of a publicly-traded company evaporated in an instant.
Jaclyn went right back to work. She built a C-suite, got ambitious about having a big exit (for real this time), and focused on recurring revenue, one of the most important value drivers of any business. In the case of C&C, that recurring revenue came in the form of a digital membership that gave access to gated content and members-only events.
The World Blows Up
Six days before an event at SXSW in Austin in 2020, the city holds a press conference to say the event will not be happening. At first Jaclyn was in denial. The cancellation of an event this late was going to represent a financial bloodbath for the company. As she was working through the process she was talking about scaling back events a few months out, but gearing back up for summer 2020. But her team members brought her to the new reality: those sorts of events weren't coming back for a while, maybe even for years.
Just as she did with the failed first acquisition, Jaclyn got to work instead of feeling sorry for herself. In May 2020, she launched a digital event, with over 10,000 attendees who sent over 50,000 messages in the Slack for the event. By pivoting quickly to digital events, Jaclyn and her team helped lead the way in this relatively new space and by the end of the year the company was on the same EBITDA despite being on lower revenue.
Second Attempt at a Sale
Having been fortified with a blown-up deal and a formerly blown-up business model, Jaclyn was prepared to go to market again. She ended up with a $22M cash-heavy deal which bought out her partners completely and allowed her to roll a portion of her proceeds towards equity in the new company. She also took a portion of the proceeds in a performance-based earnout. Sure, it wasn't the original offer she got years back, but a valuation only matters if a deal closes, and part of why that deal didn't was because Jaclyn didn't have the right value proposition in place. The next time around, she got 22 million validations for putting in the hard work.
Lessons
Some great takeaways from Jaclyn's story include:
Don't mourn, pivot

— instead of crying about the once-in-a-generation impact of Covid to an events company, Jaclyn went to another medium in the same business and capitalized on people's hunger to continue to learn and connect despite lockdowns.

Built systems

— when the seller is deeply involved in the day-to-day operations, it means the buyer is

buying a job

, not a business, and that's a smaller buying pool with smaller numbers.

Be genuine and see what develops

— all this came about because Jaclyn was interested in solving a genuine problem — more forums for female entrepreneurs to connect — and built a sturdy foundation for that. Because she did that work, it became easy to monetize it later on.
Are you concerned you're a bit too involved in day-to-day operations to offer a credible sale to a buyer? We can help you change that narrative. Give us a call.
https://www.kcapex.com/wp-content/uploads/2023/04/female-conference.jpg
334
500
Apex Business Advisors
https://www.kcapex.com/wp-content/uploads/2015/06/ApexBusinessAdvisorsLogo-216x130.png
Apex Business Advisors
2023-05-15 06:00:27
2023-04-27 16:13:02
Case Study #74: When the Market Changes, Pivot