Should You Have Business Interruption Insurance?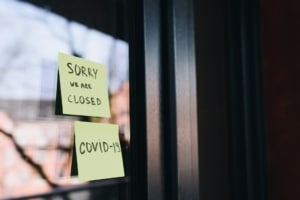 After the early days of Covid, those businesses with physical locations which did not have business interruption insurance may have benefited from government programs which helped with payroll, for example.  Now, as some court rulings have come down and insurance policies have been modified to account for previously unheard-of events like "stay at home" orders that lasted months, it might be a good time to explore this coverage for your business.
What is Business Interruption Insurance?
In brief, business interruption insurance is income and expense replacement for a business until it can re-open.  It is perfect for retail businesses that are physically customer-facing, like restaurants, salons, and movie theaters.  It's most often used by businesses with 100 or fewer employees and with $5M or less in annual revenue.  
Those businesses that work remotely or can easily work remotely might still consider Contingent Business Interruption insurance, which envisions your vendors being affected by interruptions, even if you are not.  This form of insurance will cover the product and service suppliers that deliver to you and sometimes even covers second-tier suppliers.  
What Triggers Payout?
Most policies envision events that render your business unable to open to the public, like:
Fire damage

Damage from wind or falling objects

Lightning 

Theft

Riots and vandalism
The last item, riots and vandalism, can sometimes be specifically excluded.  Additionally, riders can sometimes be added to cover losses due to suspension of utilities, flooding, earthquakes, and mudslides.  There is also coverage if the civil authority prevents people from entering your premises.
If your insurer agrees to pay, it will be during what is called the "restoration period," which starts when the damage was incurred and ends when the property is repaired and once again accessible to the public.  Some insurers impose a 48-72 hour waiting period before the restoration period even begins.
That said, even if your policy is set to expire during a restoration period, the payouts will not be affected.
What Costs Are Covered?
There are two items insurers will consider when paying out your policy:
Net Income (what would your business have made if it had been open during the restoration period?)
Operating Expenses, including:
Rent

Payroll

Taxes

Loan payments

Some general operating expenses

Move to a temporary location and any equipment needed to set up there
What Does It Cost?
The three key elements of determining the price of your policy, apart from special riders, are:
Your Industry

The number of employees you have

Amount of coverage you want
What Happened With Covid?
Well there isn't a single answer here.  In some cases the courts have sided with the insurers and in other cases with businesses.  For a frame of reference, one can look to 9/11.  When President Bush spoke of an "act of war" some days after the attacks, he used a word that is often specifically excluded in policies: war.  This led to a lot of wrangling in courts.
A closer analogue to the shutdowns many experienced in 2020 was the case that United Airlines filed against its insurer after 9/11: the airline wanted compensation for the fact that Reagan National Airport was closed and hence United could not operate their flights.  United lost the case in part because the building was not closed for reasons of physical damage.  
On the other side of the coin, business owners in Michigan won a case regarding Covid related to imposed curfews from the governor.  The courts agreed that this triggered the reference to "civil authority" we spoke about above.  People were prohibited from entering these businesses due to a curfew and hence insurers in this case were obliged to pay.
On top of these court cases, at least ten states have introduced legislation to retroactively include coverage for Covid in business interruption policies in their states.  If those laws pass there will certainly be court challenges from the insurers, and it may be years before it gets sorted out.
In the meantime, you might use this time period to revisit whether business interruption insurance makes sense for your business.  If there's one enduring lesson all businesses have taken from the pandemic, it's to prepare for the unexpected.
Need some references to companies that offer good business interruption policies?  We are happy to share some.  Give us a call!
https://www.kcapex.com/wp-content/uploads/2021/08/anastasiia-chepinska-OBmBHmrc3pw-unsplash.jpg
1282
1920
Apex Business Advisors
https://www.kcapex.com/wp-content/uploads/2015/06/ApexBusinessAdvisorsLogo-216x130.png
Apex Business Advisors
2021-09-06 06:00:51
2021-09-15 15:39:09
Should You Have Business Interruption Insurance?