Know Your Broker: Doug Hubler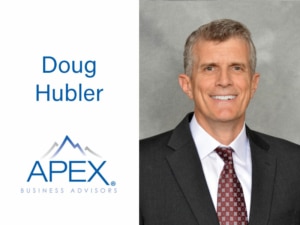 Doug Hubler has been a broker for over two decades now, so you might be forgiven for forgetting he had a whole other life before he ever started selling businesses, a life that took him all around the Midwest and up the ranks in the financial world.
Doug's degree was in finance, so a job with GE Capital was a great opportunity out of the gates and he stayed with them for 14 years, going to Dallas, then Denver, then on to Chicago, where he made a switch to Ford Credit, once again heading back to Colorado (this time to Colorado Springs) to help Ford open up an office under the name Fairlane Credit. But three years later, realizing that not coming up in the auto business or with Ford family connections made it difficult to get things done, he decided to come back to Kansas City and start a remodeling business. Doug admits that back then he didn't know you could buy a business instead of building one.
But those of you who've had experience know that the remodeling business isn't an easy one, and a couple bad situations later, one with a subcontractor and one with a customer, Doug decided the remodeling business was probably not for him, and decided to see what was available out there.
Want Ads
Younger people will need to ask their elders about these things called "want ads" but there used to be such a thing in printed newspapers, and in between the pages of the Kansas City Star was a sales job for Sunbelt Business Brokers. It had all the expected verbiage of such an ad, including "unlimited earning potential" and "make your own hours." With a young family to support, Doug grabbed the opportunity.
The big problem? Doug joined in mid-2001 and September 11th happened later that year. All business transactions were paralyzed and for a while, no one was thinking about buying or selling anything. For business brokers, it's all about surviving your first year or two. That time allows you to build up rapport and a network, and a pipeline that you can begin to harvest in good time. But Doug held on, then thrived, and by 2005 he became a manager at Sunbelt and by 2010 he was in a position to buy the franchise.
Apex Begins
While the franchise model may have made more sense in the early days of Apex, Doug decided to go an independent direction which would allow him to do some marketing and outreach that made more sense in the local market. Since then Apex has gone from strength to strength and is one of the first names people turn to in the area when considering a business transaction in the Main Street and Middle Market sectors.
When he's not leading the team at Apex (or trying to recruit new team members), Doug keeps busy with his wife, three children, and two grandchildren. He also enjoys acrylic abstract painting, something he does fairly regularly (check out some of his work on Instagram) as an outlet for his own thoughts about what's going on in the world. When asked about what he enjoys the most about what he does, he responded, "What gets me to come to the office every day is working with a great team of brokers, collaborating and strategizing on their specific deals. Those deals often end up with a seller reaching his/her ultimate retirement goal, and a buyer starting a brand new adventure."
Doug is always looking for the next Doug Hubler. He can't put a want ad in the newspaper anymore, so feel free to call us instead!
https://www.kcapex.com/wp-content/uploads/2022/11/Doug-Hubler-Headshot.jpg
600
800
Apex Business Advisors
https://www.kcapex.com/wp-content/uploads/2015/06/ApexBusinessAdvisorsLogo-216x130.png
Apex Business Advisors
2022-12-05 06:00:03
2022-11-17 11:05:18
Know Your Broker: Doug Hubler