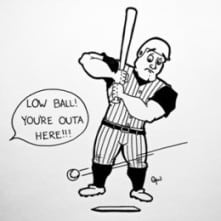 There are various ways to go about buying a business, but all of them require making a deal with the current owner. As mentioned in prior blogs, before a deal can move forward, a written offer needs to be presented. Keep in mind that offers are based on information supplied from the seller to buyer at this point and more information is probably forthcoming with an accepted offer.
A seller needs to feel comfortable with the person who is interested in taking over their business (their baby), and a relationship needs to develop between buyer and seller during the process. For a strong relationship to be maintained there needs to be fair give and take during negotiation.  Negotiation is expected.
A proper offer needs to be made unless the buyer just wants to play hard-ball and present a low-ball offer. Most sellers of good businesses are not desperate and may have multiple interested parties. A low-ball offer will most likely offend the seller and could compromise any future communication between the parties.
There are times when low-ball offers seem to make sense, e.g., the IRS has shut down the business, bankruptcy is at hand, or there is only one customer and future business is at risk.  Otherwise, be reasonable and success will follow.  If a buyer feels the business is way overpriced, there could be some missing information.  The buyer should discuss pricing concerns with the broker before making an offer.
Please discuss any questions you have about buying or selling a business with your Apex Business Advisor.
Doug Hubler
President
https://www.kcapex.com/wp-content/uploads/2015/06/ApexBusinessAdvisorsLogo-216x130.png
0
0
Apex Business Advisors
https://www.kcapex.com/wp-content/uploads/2015/06/ApexBusinessAdvisorsLogo-216x130.png
Apex Business Advisors
2014-09-26 16:27:02
2021-07-22 14:33:15
Low Ball Offers