Case Study #75: Riding the Sports Gambling Wave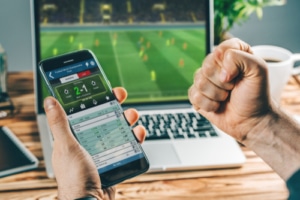 When Kyle Scott started Philadelphia sports blog CrossingBroad in 2009 he was simply trying to stand out from the plethora of Philly websites by being a bit more edgy, willing to shatter some glass and ruffle some feathers. Eleven years later, due to some savvy business moves in a changing content environment, he enjoyed a cool eight figure exit.
Google Surveys and T-shirt Sales
As so many great business stories start, this one begins in a parents' basement. Kyle had moved back home to try to make a go of being a content publisher and as he developed a loyal following due to the writing he put out each day, he looked for ways to monetize that audience.
Early on he used Google Consumer Surveys, which paid something for every user that would click through to answer some questions. This led to a significant bump in revenue for a while…until Google decided to keep those funds and direct them internally. Kyle learned a lesson about not being diversified in his income sources and added local events and t-shirts to the arsenal, eventually going viral with a Philly Special t-shirt that outlined a winning play the Eagles used in the Super Bowl.
The Supreme Court Changes the Game
In 2018 the Supreme Court struck down the federal ban on state authorization of sports betting in Murphy v. National Collegiate Athletic Association. This led to a number of states beginning the legislative process to legalize sports betting in the time-honored tradition of government grifting off legal gambling.
In his ongoing search to provide value while finding ways to monetize content, Kyle started to write "How Do I" articles on sports betting as it became legalized in certain states. Those articles would contain affiliate links from some of the sports betting companies that paid as much as $300 per user that would sign up, put in some money, and place a first bet. With hundreds of thousands of readers, Kyle saw the potential and went all-in on this strategy and when he saw $30,000 of revenue in one day he realized that this was a new vector for his company.
He added a business partner who had websites and a talent stack that offered good synergy and as other states were considering legalizing sports gambling, they came up with a strategy to acquire similar websites in those states before legislation took effect, as they had a game plan to then significantly increase the value of those properties.
Then Covid hit, and with money drying up for acquisition, they decided instead to partner with the websites they wanted to acquire in Colorado, Illinois, and the South. At the time of their acquisition they were doing topline revenue of $5M with SDE of $2-3M. 
Lessons
Kyle had a respectable lifestyle business before the Supreme Court ruling. But because he saw the potential of what affiliating with sports betting websites could do to his business, he made a big bet and won. Here are three things Kyle taught us:
Build a loyal audience

: Kyle says he was always focused on making his writing sound like he was writing an email to a friend rather than "optimizing for SEO." While those don't have to be mutually exclusive, Kyle's hard work on the keyboard storytelling every morning won him an audience that was willing to fill out surveys and buy t-shirts to keep him afloat.

See where the puck is going

: Wayne Gretzky famously talks about how he played to where the puck was going, not where it was. By seeing the popularity of sports betting grow from ground zero, Kyle and his team built a template that would add value and work state-by-state and got there before everyone else did.

Adapt

: just as the Supreme Court launched a part of his business, Covid shut down his expansion plans.

Instead of feeling sorry for himself

, he adapted an acquisition plan and made it a partnership one, leading to growth that would see him get an enormous payday: $12.5M up front, $9.5M in a three-year earnout, and $3M of stock in the acquirer that would vest after a couple years.
We aren't experts at sports betting, but we can better your odds of a great business transaction. Let us know how we can help.
https://www.kcapex.com/wp-content/uploads/2023/06/sports-betting.jpg
334
500
Apex Business Advisors
https://www.kcapex.com/wp-content/uploads/2015/06/ApexBusinessAdvisorsLogo-216x130.png
Apex Business Advisors
2023-06-26 06:00:42
2023-07-19 16:01:12
Case Study #75: Riding the Sports Gambling Wave