Case Study #39: E&J Gallo Acquire Barefoot Cellars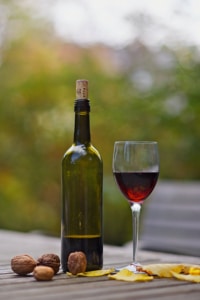 Many years ago, Bonnie Harvey and Michael Houlihan were a couple working as business consultants in Sonoma County. One of Bonnie's clients, a farmer, hadn't been paid for his grapes for over three years. The total debt? $300,000. Michael went over to the vendor to see what could be done to satisfy the bill. The morning he arrived, the vendor had just declared bankruptcy. The debt was looking to be worth about 3.5 cents per dollar. As Michael looked around the property, and the work in progress at the vineyard, he negotiated to take $300,000 in bottled wine that hadn't been labeled. Neither he nor Bonnie were wine drinkers, nor did they know anything about the industry. But they were about to start an adventure that would end prosperously.
The Power of What You Don't Know
After doing research for six months about wine and the industry, Bonnie and Michael offered to buy the debt at 100 cents on the dollar but with no additional interest and good repayment terms.  The client agreed.
Precisely because they didn't know anything about the industry, they asked friends who did and packaged the wine at the right price and in the right varietals. When they showed up to the big distributors, they were asked, "What are you going to spend for advertising?" Bonnie and Michael were broke and answered, "Nothing!" The response? "Then we won't carry it, and neither will any other distributor until you do."  This left them with Plan B and a much longer timeline: visiting individual mom and pop stores throughout California to build a following. That took years, but that's precisely what they did.  
After two years, one particular small retailer took a shine to them and when they launched nationally outside of California, they took Barefoot Cellars, Bonnie and Michael's brand, with them. The name of that retailer? Trader Joe's.
Bootstrapping
As they sold through the initial $300,000 of inventory, Bonnie and Michael didn't keep any of the earnings. They plowed it back into the company and a wine brand that had no vineyards, no bottling lines, and no facilities to maintain. They created departments for sales, accounting, and quality control. They did have a winemaker, but that winemaker would simply rent the facilities of other vineyards on days and weeks when Barefoot needed to do a production run.  
They also took advantage of lines of credit based on their accounts receivable, and they were able to do this because they developed a relationship with their banker (something we recommend often).  
They also made sure to spend time with the distributors and retailers in a customer-facing way. This allowed them to learn what people wanted and how to improve their product. By the time Barefoot got acquired, they were selling 600,000 cases of wine a year (for the wine novices, 12 bottles are in a case, so that equates to 7.2 million bottles a year). But growth alone wasn't going to get them the sale they wanted.
Broker Education
Remember Bonnie and Michael had never owned a wine company, so they certainly hadn't sold one before, either. They decided to take a broker out to lunch and ask questions about the metrics in such a sale so they could use those metrics to optimize their business (as an aside, you don't have to take us to lunch to get some of these insider facts, but we aren't likely to refuse if you offer!) They learned about valuation (anywhere between 2x and 10x gross sales, depending on both the wine market and the stock market in any given year), growth rate, and position in the market, key factors that the bigger players looked at when considering an acquisition of a smaller player.
Bonnie and Michael also wanted to target an acquirer and get in their sights. When doing their research, they found that E&J Gallo wines were the only ones selling faster than theirs, and this was due in part to a strong presence that their sales team had with distributors on the ground. Barefoot then focused their energies on the largest distributorships of Gallo, trying to get Gallo's attention by performing well as a competitor.
They also found a broker who had not only done a lot of transactions in the wine space, but had recently completed an acquisition deal for Gallo. Another lunch later, Bonnie and Michael had the list of due diligence items that Gallo required from any acquisition target. They went about getting all of that lined up and Gallo was impressed to get such a fast reply to their due diligence requests (little did they know that the couple had been working on their homework proactively!)
The terms of the transaction were undisclosed, but it's fair to say that Bonnie and Michael definitely turned that original speculative $300,000 bottles of unlabeled wine into a fortune.
What can we take away from this story?
Don't be intimidated by your lack of knowledge in a business. Do your research, ask the experts, and then be willing to put in the elbow grease and financial sacrifice to make it happen.
Play the long game. Wine, like most businesses, is not a "get rich quick" scheme. When the big guys told them "no" early on, they didn't give up, but started cold calling on each and every wine retailer in the Golden State.
Buy lunch for your broker. Okay, so this is a bit self-serving, but you probably get the point: we've done thousands of transactions and have knowledge we can share; all you have to do is ask.
Don't be afraid to call your shot. Bonnie and Michael knew who they wanted to be acquired by and reverse-engineered it. That's not always going to be possible. But the lesson of "have your due diligence ready before you're asked" is something we all can accomplish. We have to be willing to set aside the time to prepare for the future.
https://www.kcapex.com/wp-content/uploads/2020/06/wolfgang-hasselmann-GPwuH2q9mcs-unsplashfeatured.jpg
526
800
Apex Business Advisors
https://www.kcapex.com/wp-content/uploads/2015/06/ApexBusinessAdvisorsLogo-216x130.png
Apex Business Advisors
2020-06-25 06:00:47
2021-03-10 15:22:49
Case Study #39: E&J Gallo Acquire Barefoot Cellars