Using Tyson's Recent Struggles to Examine Your Business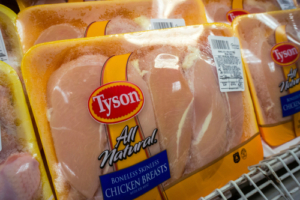 We may not think about it too often, but there's a lot of planning that goes into making sure Americans have chicken, beef, and pork waiting for them when they walk into grocery stores to buy. The pandemic threw a curveball at US producers, who didn't want to miss out on current demand but also needed to forecast into the future. One of those producers who've been getting a lot of attention recently is Tyson. We're going to take a look at the multiple factors affecting their performance and what we as small business owners can learn from a big business like theirs.
Prices Matter
Tyson has been dealing with consumer pushback on higher prices. These higher prices have been caused by two pressures on Tyson:
Labor shortages have caused wages inside Tyson to rise
Lower supply of meat from producers have led to higher acquisition costs for Tyson
We'll talk more about both of these issues in a moment, but in the medium term it seems that consumers do have a limit as to what they are willing to pay for meat and Tyson is finding that out firsthand.
Small Business Lesson:
It's important to get the pricing right for your products and services. What are your competitors charging and how do those prices relate to yours? What is coming up in the short and medium term future that should lead you to consider a price change? What event(s) could lead consumers to buy less from you?
Employees Matter
The pandemic reset a lot of people's expectations about work. Broken from the spell of the daily grind, many stopped to ask themselves what they were doing with their lives and they sought better answers than what they had been previously pursuing. This has led to a still-visible impairment in the service industry and the same is true at Tyson, though it had already suffered reputational damage for poor employment practices for years prior to this.
Small Business Lesson:
If Tyson hadn't been so relentlessly focused on the bottom line and realized that there are actual people, not only robots, working in their plants, they would have put together a long-term strategic plan to raise wages and compete for labor, creating a culture that makes people want to work at Tyson, not have to work at Tyson.
Small Business Lesson:
Have you been creating a culture for your employees that makes them want to work there, not just have to work there? If not, why not?
Vendors Matter
Often Tyson is the single largest buyer of meat in a given geographic region, giving them powers resembling a monopoly, which they have abused, both when they buy and when they sell (as lawsuits have proved). Frustrated by long-term issues with the company and the already-thin margins they deal with, many small producers have headed for the exits, leaving Tyson with fewer options to deal with consumer demand.
Small Business Lesson:
Do you show appreciation for the vendors that help your business exist? Or do you just take them for granted, or worse, like Tyson, take advantage of them?
Accounting Matters
As its stock price has cratered as a result of its net operating income losses (the first seen at the company in many years), Tyson has used a one-time goodwill impairment charge to deal with some of its losses. What that means in English to those of us who don't do accounting for a living is that Tyson took a slice of their intangible goodwill and charged it off to make a quarter not look as bad on paper as it was.
Small Business Lesson:
Small businesses don't have to be accountable to stock price fluctuations, so they don't really ever have to worry about writing off their goodwill. But do you know what the value of the goodwill in your business is? You would if you did a valuation. That's a key step in getting any business ready to sell.
Predictions Matter
It's tough to navigate the market as a big business, particularly in the industry that Tyson serves, which has to account for multiple inputs that have proven to be less predictable over time. Tyson's production ramp-up during the pandemic has turned out to be a mistake and they are paying the price for it now in stock, sales, and reputational damage.
Small Business Lesson:
It's not possible to get every prediction right as you try to navigate the waters of your industry. But too many business owners get excited about the upside and don't prepare well enough for the downside. As you make big moves for your small business, always remember to cover that downside.
If you need help examining these lessons for your small business, we're here for you. Give us a call.
https://www.kcapex.com/wp-content/uploads/2023/10/tyson-chicken.jpg
333
500
Apex Business Advisors
https://www.kcapex.com/wp-content/uploads/2015/06/ApexBusinessAdvisorsLogo-216x130.png
Apex Business Advisors
2023-10-23 06:00:32
2023-10-03 11:21:31
Using Tyson's Recent Struggles to Examine Your Business