Responding to Customer Reviews
Did you know that almost 80% of people say that they trust online reviews as much as personal recommendations from friends and family? Or that 94% of consumers say that good or bad reviews have been instrumental in helping them make decisions on whether to patronize a business?  While at first those statistics might sound astonishing, the reality is that online reviews are a major part of how both businesses and consumers make decisions these days.  That means it's a vital part of building a business you plan to sell, and an important component of any business that a buyer might be interested in.
Good, Bad, or Ugly, Always Respond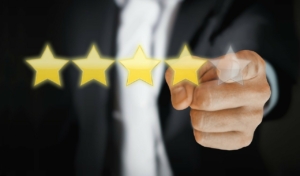 You can't control what people say in reviews, but you can control how you respond.  In fact, a good response to a bad review might be precisely what encourages someone to do business with you.  But not responding at all means that the reviewer has had the last word.  Let's examine some principles behind responding to good and bad reviews.
Bad Reviews
It's never easy to see your business taken to the woodshed, much less in a public way via an online review.  But what we've seen all too often is an emotional response from owners.  This is, obviously, not the way to do things.  Of course business is emotional and you hate to see your business, and by implication, yourself, attacked.  But an emotional response will only fan the flames.  
Firstly, assess and evaluate the feedback internally with your team.  Find out "your side of the story" and see if you genuinely failed, if the customer is acting completely irrationally, or somewhere in between.  Once you have the facts, respond, as rapidly as you can, publicly.  
In that public response, make sure to show that you are interested in having a one-on-one conversation.  Aspects of your public response can include:
Asking questions

Acknowledging mistakes

Empathizing

Offering multiple solutions
Standards of service are so low these days that any sort of ownership and desire to "make it right" from companies are applauded by even angry reviewers, and we can tell you of multiple business owners who have discovered a brand ambassador that began his journey with the company as an angry reviewer.  
Once you've had a conversation with the reviewer and had a chance to make things right, ask them to update their review, or write a new one if the platform doesn't allow for updates.  
Good Reviews
While everyone loves getting a pat on the back, too often we see business owners taking these for granted and not reacting with the same urgency as they would to a bad review.  Any reviewer has taken time out of his/her day to talk about your business.  Respect that.  
Just as you would with a negative review, check with your team to see if there's any "inside knowledge" that would make your response more authentic.  When you do respond, lead with gratitude and further, ask if you can add further value, in a way that makes sense for your company and services.
Most importantly, be willing to ask for a referral.  Customer goodwill is on a high after a positive review: it's the perfect time to ask if there is a friend or a family member of that customer you can serve as well.
The conversation about your business is happening on the Internet every hour of every day of every week of every year.  Don't let it be a one-sided conversation.  Let potential customers see one more aspect of your business: the way that you respond to praise.  And criticism.
We're pretty proud of our customer reviews.  If you'd like to be one of them, give us a call to see if we can help you with a buying or selling transaction.
https://www.kcapex.com/wp-content/uploads/2021/05/review-5207277_1280.jpg
752
1280
Apex Business Advisors
https://www.kcapex.com/wp-content/uploads/2015/06/ApexBusinessAdvisorsLogo-216x130.png
Apex Business Advisors
2021-05-26 06:00:35
2021-05-20 09:30:03
Responding to Customer Reviews