Many business books have the same formula:
Identify a problem

Show your unique way of solving the problem

Do so within 300 pages or fewer
This means that there's a predictable comfort with such books. But it also means only a very few go on to become truly meaningful and useful long-term beyond fads of, oh say, throwing a fish around or asking where someone's cheese might be.
That's what's so surprising and powerful about Extreme Ownership: How US Navy Seals Lead and Win, by Iraq veterans Jocko Willink and Leif Babin.
It manages to tie together a compelling (and real life) narrative about modern warfare with leadership principles and actual case studies of those principles being successfully applied. It's a book that you'll want to go back to time and again.  
Twelve Principles
The book has 12 chapters, each of them dedicated to different principles, like "No Bad Teams, Only Bad Leaders," "Decentralized Command," and "Discipline Equals Freedom," a catchphrase that became so popular on Jocko Willink's podcast that came after the book (unsurprisingly titled Jocko Podcast) that it led to a follow-up book which describes Jocko's personal life philosophy.  
But the most important chapter, and what sets up the rest of the book, is Chapter 1: Extreme Ownership (this is something we've discussed in a previous article).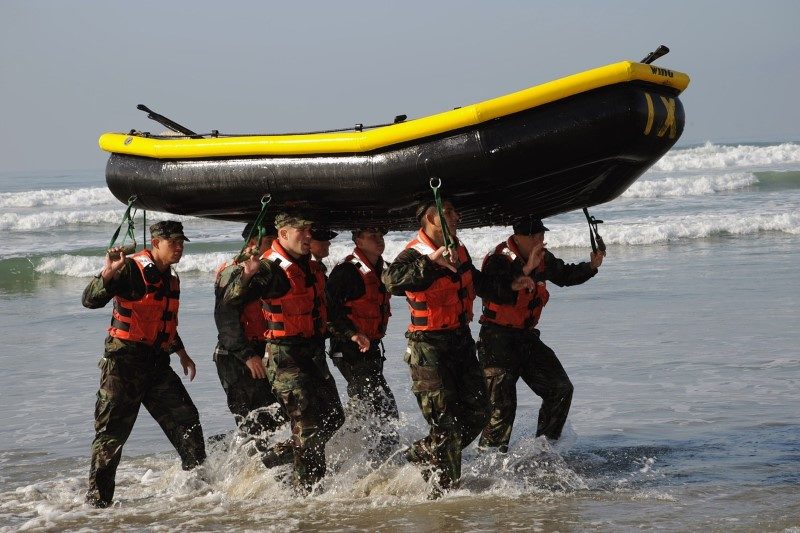 The short definition of Extreme Ownership means having a solution-oriented posture towards failures or missteps instead of pointing fingers.
It's a powerful principle and one that works all the way up and down the chain of a business or any organization. It will change the way your organization works.  
If the response to a problem or failure no longer becomes "Who can we blame?" but rather "How can we prevent this from happening again?" employees will feel supported and everyone will be oriented towards solutions rather than blame.  
A revolutionary idea (for business, at least) inside an atypical business book. Pick it up for the lessons in leadership, come back to it for the humanity that animates it.
The "No Bad Teams, Only Bad Leaders," chapter is also powerful, as the lesson was derived from SEAL training in which, during a 6 boat race (each boat manned by 6 men), Jocko swapped the leader of the team that was consistently winning (the SEALs had to paddle the boat a certain distance from shore, capsize it, then empty the water out, get back in, and paddle back) with the team that was consistently coming in last.  
Soon thereafter the team that was coming in last started coming in first. The men who were in the boat that was originally finishing last just needed a leader who knew how to motivate them.
Personal Responsibility
The appeal of this book is particularly strong in our society which is so desirous of true, strong leadership. It's a book that never lets up and never takes the easy way out.  
Leadership isn't something you achieve, but something you earn every day, and it's always done best by building your team the right way….by showing them how to lead with humility and engagement.
https://www.kcapex.com/wp-content/uploads/2018/02/extreme-ownership.jpg
533
800
Apex Business Advisors
http://www.kcapex.com/wp-content/uploads/2015/06/ApexBusinessAdvisorsLogo-216x130.png
Apex Business Advisors
2018-03-27 06:00:48
2018-02-26 15:40:27
Book Club #15: Extreme Ownership: How US Navy Seals Lead and Win, by Jocko Willink and Leif Babin