Case Study #58: Still Working for the New Owners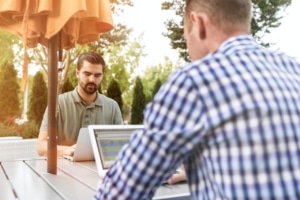 Anthony Fracchia was born into a restaurant business and started working at the age of 10.  He wasn't allergic to working with family and years later when he was in the working world he decided to get involved with what was then primarily a health insurance brokerage with his father.  He eventually bought his father out, worked hard on building the company's revenue, and a few years after that, sold the business, Altrius Benefit Consultants, for 8X EBITDA.  The funny thing?  Both he and his dad are still working there to this day!  They love the team and business they built.
The Model
Many might be familiar with the regular individual insurance agent who gets paid straight commissions set by a carrier.  An agency is a way to accelerate the work of an agent by adding more team members.  But a general agency is one step above even that, as they negotiate their own commissions based on the volume they do, and hence can, in a sense, wholesale those rates by offering training and support and keeping the difference.  At the time of sale Altrius had 300 agents in this revenue channel in one state alone, apart from the regular residual income that accrues from premium payments across policies.
The Buyout
Anthony loved working with his dad but after more than a decade of working together they realized they weren't aligned in their business goals.  Anthony was in his 30s and wanted to grow aggressively, and his father was in his 70s and wasn't at all interested in that aggressive growth.  Anthony and his father had always kept their own personal books of business outside of the agency's valuation and those personal books accounted for 70% of the revenue of the business at the time.  Anthony bought his father's share of the remaining 30% of revenue for 2X topline revenue.  Dad continued to work on the business and Anthony hired a business coach and went for it. 
The results spoke for themselves.  In the four years after buying the business from his father Anthony increased:
Gross revenue by 85%

Gross profit by 100%

EBITDA by 600%
The Sale
Years before, when he still co-owned the agency with his father, some state legislation was proposed that could have decreased the agency's earnings by 40-60%.  Father and son realized that their business wasn't diversified enough and added Medicare and other employee benefits to their overall portfolio, but that concern about a changing regulatory environment was still there, and only became exacerbated with the passage of the Affordable Care Act.  The regulation in the industry wore on Anthony.
He had also seen the acquisition market in insurance agencies heat up from 3-4X at the time he bought out his father to 8-10X some years later.  When he started to get some cold calls inquiring about his business he thought it was time to think about some general principles for a sale.  He came up with four non-negotiables:
He wanted to keep the brand intact

He wanted the ability to stay on indefinitely

He wanted his staff to be safe to stay on indefinitely

He wanted a multiple of EBITDA between 7-10X
Part of how he came up with these points was one particular tire kicker who had taken him down the road for a couple months.  Anthony was naive and, excited that someone wanted to buy his business, thought he was just "having a conversation" but in reality he was giving away a lot of information.  At some point before handing over some revenue numbers he realized the acquirer just wanted to buy his book of business and planned to zap his brand and fire his whole team.  Needless to say Anthony broke off the conversation right away and came up with the four points listed above.
Because he stayed focused on those points when the right acquirer came along and said, "No problem" to those four points he knew he was on a good path.  He ended up getting 8X EBITDA, 80% upfront and 20% on a three year earnout.  The 80% was 90% cash and 10% in unrestricted stock in the acquirer.  The earnout was all stock, delivered in annual tranches over three years.  The acquirer was originally listed on the OTCBB but has since transitioned to NASDAQ.
Lessons
As always, there are lots of lessons here but we will focus on four:
Have a

buyout agreement

when you have a business partnership!  This will ensure that any future separations will be clearly delineated.

Be clear on

what it is you want

out of a sale.  Taking the time to write down what you want can serve as a north star for every meeting you take.

Realize

it's very rarely "just a conversation"

when someone is interested in buying a business. 

Hiring a broker

takes a lot of these time-consuming calls off your plate and puts them on ours, where they belong.

Hire a business coach

.  No one achieves success in business alone.  Be humble enough to ask for help and smart enough to take the advice when it's offered.
Are you anxious to supercharge the value of your current business so you can sell it in a few years?  We'd love to help you put those plans in place.  Give us a call.
https://www.kcapex.com/wp-content/uploads/2022/01/pexels-linkedin-sales-navigator-1251846.jpg
853
1280
Apex Business Advisors
https://www.kcapex.com/wp-content/uploads/2015/06/ApexBusinessAdvisorsLogo-216x130.png
Apex Business Advisors
2022-02-21 06:00:35
2022-02-23 15:57:59
Case Study #58: Still Working for the New Owners