Case Study #27: From Side Hustle to Millions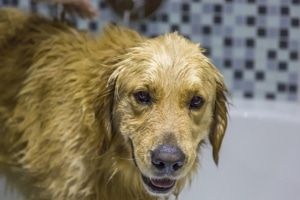 Anthony Amos started playing professional rugby right out of school in Australia. But he knew he couldn't do that forever, and anxious to build something for himself, he decided to start a dog grooming business with his brother – and not just an ordinary one – but a mobile one called HydroDog. He put an ad in the local paper on a Friday, and on Saturday morning he had nine bookings at $10 per dog. He knew he was on to something, and he and his brother excitedly went to their first appointments, accidentally bringing dishwasher detergent instead of the dog shampoo for those first nine dogs.
Goals
Anthony had never planned on washing dogs forever, but he stayed in that technical role for a long time, relatively speaking. The first six years in the business he and his brother worked "on the front lines" washing dogs while also signing up franchisees. Anthony notes that many franchisees were really edified and inspired to see the franchisors still very much "in the tools." The business grew and Anthony and his brother soon hit 100 franchisees. "That's fine for me," Anthony noted, "I want to sell."
But then he learned about master franchising, from the gentleman who had helped him set up the HydroDog franchises. He could sell territories – in the case of Australia, five states and two territories – and have master franchisors that reported to him. Within 18 months, he had sold all of Australia and hit another ceiling. He wanted to sell again.
Diligence Tests Relationships
The acquirer that Anthony found was looking for any reason to pay less than market price and used the due diligence portion of the process to do just that. This kept Anthony and his team buried in obtaining affidavits to cover documents that were missing but both parties agreed had existed. Anthony had made a practice of really getting to become friends ("mates" as Australians say) with the franchisees and master franchisees, and as a result, when this extra paperwork was needed for a sale, they were willing to do the extra work.
He couldn't let the entire organization know, because, like telling employees before a sale is finalized, great instability could be caused. In the end, both parties got what they wanted. The acquirer got his due diligence "discount," and Anthony got the sale that he wanted.
Not quite the end
Anthony took all the earnings he had and put them into Australian property development in 2007. The developer was US-based. You can guess what happened next. Anthony lost all that money and got lured to start HydroDog in America. He did, with the help of some financial partners. But they wanted to corporatize while he wanted to franchise and this led to his being bought out. Anthony ended up being right about the model and was able to buy back the business for pennies on the dollar when they went into liquidation.
He's now continuing to build HydroDog, but in a new country, a little wiser but with the same hustle and passion.
Lessons
Anthony, like many Aussies, is very no-nonsense, and it was his instinctive, "time to sell," feeling that drove each of the liquidity events that he experienced. What was important to him was being true to himself, especially when he hit a ceiling that he didn't think he could grow beyond personally or professionally, whether that was 100 franchisees or 7 master franchisees.
He also learned a lesson we've seen in many of these case studies: success in one field does not necessarily translate into success in others. He had grown a franchise to 100 franchisees and sold it at the top of the market, but also managed to invest in real estate development, something he knew nothing about, just before the market bottomed out.
But in another recurring theme, he didn't feel sorry for himself and wallow in self-pity. He got right back up and went after where he had been successful before, and where he carries on today.
Apex is actively searching for top quality candidates to join our team of Advisors. If you're interested in a career helping people buy or sell a business, think you have relevant experience, and want to find out more, please call Doug Hubler, President of Apex, at (913) 433-2303.
https://www.kcapex.com/wp-content/uploads/2019/02/animal-3080442_640.jpg
426
640
Apex Business Advisors
https://www.kcapex.com/wp-content/uploads/2015/06/ApexBusinessAdvisorsLogo-216x130.png
Apex Business Advisors
2019-03-05 06:00:32
2019-02-18 08:44:56
Case Study #27: From Side Hustle to Millions