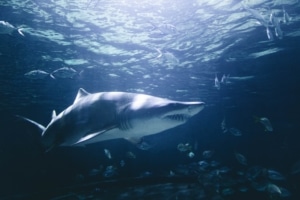 In 2013 Kate Field was living in Washington, D.C. working for a nonprofit when she discovered kombucha. Five years later she was pitching a home kit kombucha company on Shark Tank and two years after that she sold the company she bootstrapped, The Kombucha Shop, for just under $2M. Her sale of the business during the pandemic and her refusal to take on Shark Tank money are only two of the interesting twists in this fascinating story.
The Home Brew Niche
When Kate discovered kombucha it had not gotten popular or scaled yet so bottles were often $4 a pop. Friends tipped her off to brewing her own at home, which only involves the cost of tea, sugar, water, and the bacteria starter, called a scobie (think of the "starter" in a sourdough loaf), and often you can get a scobie free from a friend. Once she had gotten set up she offered to help out a friend who had asked about it, but the friend had already "bought a kit online." 
Intrigued, Kate searched online and found some hippy-marketed kits, but nothing with the clean and trendy branding that her own millennial segment would be drawn to. There was an opening!
With $800 she bought glass jars, sugar, tea, PH strips, and a logo courtesy of a student designer and made 20 kits. She launched a Squarespace website just before Christmas and sold out those 20 kits just on word-of-mouth marketing. She took the profits and washed, rinsed, repeated. Before too long she had a business on her hands.
Shark Tank Calls
That regular word-of-mouth marketing is what Kate and her team stuck with and the company started to see hockey-stick growth, with $800k in sales in 2016, and $1.2M in 2017. Shark Tank came calling in 2018 and after three months of preparation and a lot of nervousness, she pitched.
Inc. ranked it as the second-best pitch of that season, and she consistently got praise from Mark Cuban during the pitch, but ended up doing a full-valuation deal with Sara Blakely and Barbara Corcoran. That deal valued the company at $3.5M, almost triple her trailing 12 months revenue at that time, but all the advice she had going in was to go high as the Sharks would inevitably try to take bites out of whatever number she came up with.
As it turns out, the deal didn't end up being a fit (over 50% of the deals that "close" on the show never make it to the finish line) for various reasons, and all the parties were okay with not moving forward, but the entire diligence process only pushed Kate towards selling, as she was starting to feel that solopreneur burnout.
One Week From Closing
Getting on Shark Tank will get you a fair amount of interest when you take your business to market, and Kate met with 5-6 buyers before settling on a buyer who had grown some businesses in the past, wanted to give Kate a board seat, and give her an earnout over seven years that could lead to $2.7M in total earnings, but he only wanted to give her $1.5M upfront. She got along well with the buyer and despite some reservations about the earnout timeline, she decided to move forward.
One week before closing, on March 13th, 2020, she got a call from the buyer. He told her that there was going to be a global pandemic that would shut down supply chains for years and that he just couldn't go through with the deal. Though she understood conditions were unprecedented, Kate was distraught and her husband suggested that they take a bike ride out to clear her mind.
But instead of clearing her mind, Kate got into a serious bike accident. Yet this only made her even more eager to sell: life is short, your health can be tenuous. 
Her broker got on the phone to people who were hoping the deal wouldn't happen so they would have a chance and as she was going into surgery she gave a verbal okay for an LOI with one of those buyers. He had his own reservations about the international state of affairs (it was March 2020, keep in mind!) and so he shaved some of the value off Kate's desired price of $2M to mitigate his risk: they ended up agreeing at $1.85M.
Lessons
There are so many wonderful lessons from this first-time entrepreneur pulling off a 7-figure exit in the middle of a global pandemic, but we'll focus on three:
Build a better mousetrap

. Kate didn't hit on a world-changing idea. It was simple, and in fact, there were already players in the space. They just weren't marketing to people like Kate, and she jumped on that opportunity.

So what if you "don't know.

" Kate didn't know how to build a business, she just went for it. She did a test run, sold out, then just iterated from there. So many businesses would never have been built if the owner had let "I don't know how to do that" stop them.

Turn down money sometimes

. While it's definitely easy to get star-struck by the idea of working with Sharks, there's no point in taking money if you don't need the money. Venture money always comes with strings, and sometimes those strings pull you right out of your own company.
We helped shepherd many transactions during the pandemic and have continued to do so as the panic from that time period has subsided. We'd love to work with you. Give us a call.
https://www.kcapex.com/wp-content/uploads/2022/06/hunter-newton-1oNDYsJfSA-unsplash.jpg
1280
1920
Apex Business Advisors
https://www.kcapex.com/wp-content/uploads/2015/06/ApexBusinessAdvisorsLogo-216x130.png
Apex Business Advisors
2022-07-18 06:00:19
2022-12-24 10:37:40
Case Study #64: Turning Down Shark Tank Money