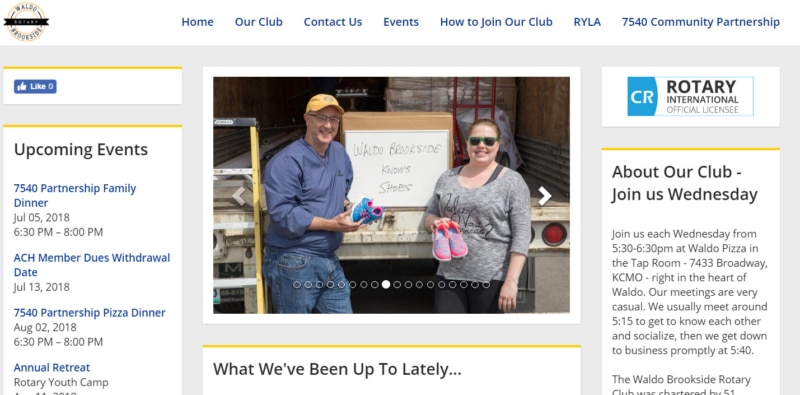 Many of our brokers are involved in giving back to our community. We will occasionally share some of those stories with you.
"It's important to take care of where you live, not just your own street…but your neighborhood. You naturally want to improve it in every way."
With an attitude like that, it's easy to see why Steve Weaver simply saw starting a Rotary Club in the Waldo/Brookside area as something logical to do.  
For those who don't know, Rotary Clubs are local chapters of Rotary International, a fraternal organization dedicated to positive community initiatives and worldwide change. (One of their recent worldwide initiatives was polio eradication. Due in large part to Rotary and the Bill and Melinda Gates Foundation, the disease has been isolated to Nigeria, Pakistan, and Afghanistan).
 There are quite a few clubs in the Kansas City area, but they were pretty "established" and in the mold of a breakfast or lunch meeting. By picking 5:30 pm on Wednesdays at Waldo Pizza as a meeting time, Steve and the other 52 charter members of the club were signaling that they were definitely onto something different.
After some time on the International Committee and as Sergeant-at-Arms, Steve currently serves as the assistant treasurer for this club. As part of the leadership team that helped to found the club in the first place, he had a chance to participate in a one-year program called Rotary Leadership Institute.  
While the program focuses on all aspects of Rotary and club management, Steve noted that he particularly enjoyed the classes on more effective messaging. Those classes helped people move towards action, as well as workshops on how to lead people with varying viewpoints.
While there's currently some movement behind a project to build a park/community space in an area that formerly housed a school, the Club's main community focus is their 7540 Project.  
The 7540 Project
Many people don't know that, when someone is in foster care, the state takes care of a fair number of their needs. But at 18, they age out of the system and there's no corresponding program to help in the transition.  
Unfortunately, this all too often leads to these young and vulnerable people becoming homeless, dropping out of school, and/or engaging in crime.
It's always easy to complain about the lack of responsiveness of government. But rather than complain this club set up 14 apartments to provide housing and ongoing support to these members of the community.  
The members engage in mentoring, job training, and often come by for meals that they bring or help make. Far from just giving a handout, this initiative offers a "hand up", and it's already leading to some life-changing results.
To learn more about this Rotary Club and its initiatives, visit their website.
https://www.kcapex.com/wp-content/uploads/2018/06/Waldo-Brookside-Rotary.jpg
705
1429
Apex Business Advisors
https://www.kcapex.com/wp-content/uploads/2015/06/ApexBusinessAdvisorsLogo-216x130.png
Apex Business Advisors
2018-07-03 06:00:27
2021-01-29 14:22:53
Starting a Rotary Club from Scratch in Brookside/Waldo