Should You Sell to a Private Equity Group?
Private equity groups (PEGs) are always looking for good businesses to buy – ones that are ready to grow. They seek businesses that are successful but need an infusion of capital, expertise, scale or marketing to reach their full potential.
Often, PEGs will purchase a large percentage of the business and ask the owner to maintain some ownership and stay involved in running the business. They'll then seek to grow the business and possibly sell it again.
The Pros: Growth, Two Paydays, Gradual Separation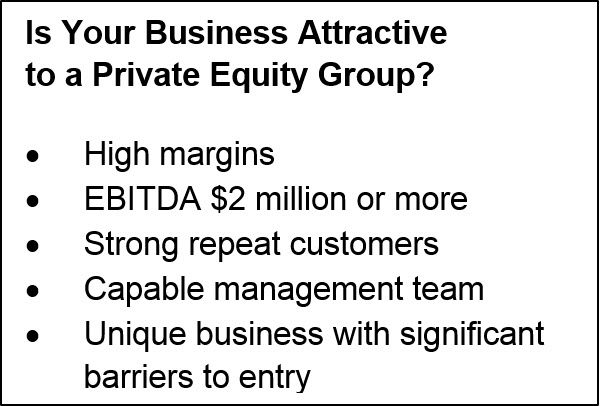 That scenario sets you up for two paydays – one at the initial sale and another after you've grown and the private equity group either sells the business again or buys you out at a much higher value!
That's just one of many benefits when selling to a PEG. It may be right for you if your business is successful but stagnant – if you're looking for help taking it to the next level.
These buyers are good at what they do; they likely have other businesses like yours. Because they typically don't want to get into the weeds, they often want you to continue leading for a time, while they add oversight and assistance in the areas where you're lacking.
The Cons: No Pricing Premium, More Thorough Examination, Potential Cost Cutting
In our experience, private equity investors are tough negotiators. However, they will offer a fair price, rarely paying a premium. They will require more time consuming due diligence – typically 90 days. They are in no hurry; they'll look at 500 potential deals before choosing one. So they won't hesitate to put you through your paces.
To fund growth, these groups may require the business to do some cost cutting, layoffs, and other changes, which could make you uncomfortable. This is especially true if they own other businesses like yours and are looking for synergies.
Be Prepared
If you think your business may be attractive to a private equity group and you're interested in selling, do some prep work (check out our post 6 Critical Factors That Make Businesses More (or Less) Attractive to Buyers). Talk with an advisor to understand your strengths and weaknesses.
If you attract interest early on, don't get greedy and assume you've set your price too low. You may not get a second group interested.
As you begin negotiations, make yourself available, and work on building a relationship with the potential buyers. You're likely to be working with them for some time, so you'll benefit by getting off to a good start.
If you or someone you know is interested in buying or selling a business, please call us at 913-383-2671 or contact one of our Apex Business Advisors today!
https://www.kcapex.com/wp-content/uploads/2016/09/PrivateEquity.jpg
406
600
Apex Business Advisors
https://www.kcapex.com/wp-content/uploads/2015/06/ApexBusinessAdvisorsLogo-216x130.png
Apex Business Advisors
2016-09-21 14:21:37
2021-04-23 13:59:37
Should You Sell to a Private Equity Group?