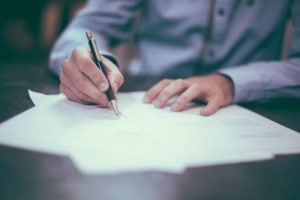 We've talked about our signature Offer to Purchase (OTP) before. In this article we're going to break down that OTP into some broad areas to make sure buyers know what can make an offer attractive to sellers.
Don't Wait on Diligence
Sometimes buyers will ask to do due diligence before making an offer. But a business is like anything for sale, and those who submit offers sooner are more likely to get accepted than the offer that may come from someone "after they've seen additional details."
Show Me the Money
Earnest money or escrow is typically required of a buyer when making an offer. A seller wants to know that a buyer is serious and committed before allowing additional confidential information to be shared. Often the escrow money that accompanies an offer is the first of three payments that together can comprise a down payment:
Escrow payment 1 accompanies an offer

Escrow payment 2 is due with the acceptance of an offer

Escrow payment 3 is delivered a week prior to closing
These three payments will usually comprise at least 10% of the total amount of the sale, but can sometimes be more.
The amount of the earnest money can also signal to a seller how serious an offer is. This doesn't by itself make the offer better, but it's definitely something that sellers consider when looking at competing offers.
Time Constraints 
The offer should also mention milestones. Examples include:
A certain amount of time for

diligence

. 3 weeks is the most common.

A target

closing date

. This will depend on the particularities of the buyer and seller and can be tied to personal or business matters. The bank lending process is also a key factor in setting a closing date.

Transition

. Sometimes sellers are getting out lock, stock, and barrel, and will have a short transition time. Other times sellers will continue to work in the business uninterrupted for months, sometimes even years at a time. A desired transition time should be spelled out in the offer.
Obviously all these times are negotiable, as they are part of an offer, and when the seller accepts, he/she may accept with changes made to these timelines.
Reminder to Sellers
While it's exciting to accept an offer, it's important to remember that it's only the beginning of the process. We often tell sellers to keep working in their business as if the sale was not going to happen. 
That means: 
keeping the sale

confidential

continuing to run the business as usual, whether that's hiring new team members or running the usual advertising campaigns, etc.

setting aside a block of time to dedicate to the sale each week so that the process keeps moving forward; selling a business is a part-time job on top of running your business — thankfully it's just a temporary one
We help draft offer letters just about every week of the year as part of the service we offer to our clients. Learn more about how we can help you by giving us a call.
https://www.kcapex.com/wp-content/uploads/2022/08/scott-graham-OQMZwNd3ThU-unsplash.jpg
1281
1920
Apex Business Advisors
https://www.kcapex.com/wp-content/uploads/2015/06/ApexBusinessAdvisorsLogo-216x130.png
Apex Business Advisors
2022-09-05 06:00:26
2022-08-21 19:48:49
Key Elements of an Offer