Case Study #71: Web Design for Therapists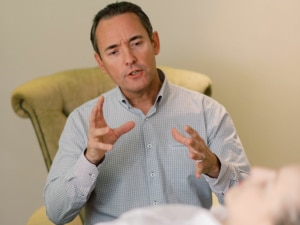 The saying "there are riches in niches" isn't just a pleasant saying for Perry Rosenbloom. His recent 8-figure sale of Brighter Vision, a web development company focused just on therapists, is eloquent proof of it.
As is the case with many small businesses, Perry's started with fixing one problem. His mother-in-law was a therapist and he helped her build a website. While he did so he got curious about the industry and found out that there was a big player in the space charging a fixed recurring charge each month for their services. With a little bit of hustle (and looking at the publicly available name servers) Perry found, effectively, their customer list, and started emailing those customers, asking if they would be willing to switch. That got Brighter Vision going.
The Covid Effect
January 2020 was Brighter Vision's best month ever. They experienced 60-75% growth, and were starting to experiment with two different paths:
Selling more services to existing customers

Selling existing services to new customers, i.e. taking on another niche like dentists or chiropractors
The reasoning on the second point was that since all the systems were already in place to serve one niche, if there was clarity on customer acquisition cost (CAC), a new niche could be added seamlessly. The team was experimenting with Google AdWords to figure out CAC.
Then March 2020 hit. Churn started to skyrocket but Brighter Vision acted quickly, offering two months free to every customer. This stopped a lot of the churn and after two months in which therapists were at home, pondering how to grow their businesses, demand spiked.
A Software Upgrade
One of the pain points therapists shared with Perry was social media. They wanted to find better ways to market. After looking at the problem themselves, Brighter Vision concluded that software would be a scalable way to offer this service, but none existed. That's when Perry went to his old boss, someone who had built and sold several businesses, for a $200,000 investment for around 8% of the company. The investment would be used almost entirely to build the software.
The software worked very well when it got up and running, but it took over a year to get to that point. Brighter Vision originally outsourced the build to a local firm, but after eight months of not only no progress, but software that seemed to get worse with each iteration, they turned over what they had to someone in-house to project manage and build it and a few months later, the software was complete.
Always Open
Perry received interest from acquirers prior to Covid and maintained an "I'll always take a phone call" philosophy. He would give those interested their customer count, ARR, and growth rate. If they came back with something in the ballpark of what he was looking for, he would be willing to accept an LOI.
Having never sold a business before, Perry leaned on his investor as well as some wisdom from Chris Voss, via his book on negotiating. Both his investor and Voss drove home the idea of silence. Perry would even sometimes write down on a sheet of paper, "now shut up" to remind himself what to do after talking about a specific deal point.
Perry's investor also helped set expectations by telling him that "all deals die twice." Perry didn't go into any of the conversations or negotiations with potential acquirers with any emotion. He accepted that they would make their case, but as noted above, he often chose silence as a part of his negotiating.
Lessons
Three takeaways from this happy ending for Perry and his team:
Trust your gut

. During the software build process, there were numerous red flags that indicated that the company they hired to build the software were completely lost in the sauce. Perry feels he should have made a decision sooner to dump them and cost his company eight months of time because of not trusting his gut.

Silence is golden

. Negotiation isn't just silence, but silence is a big part of negotiation. This doesn't mean that you should just ignore questions or counteroffers! But it means you can continue to reframe your position in numerous ways the same way. However,

ghosting

is not a strategy (especially with your advisors!).

Master a niche, then consider other niches

. If you have already mastered a niche, consider adding another niche that makes sense. You've already done the work to cater to one type of customer, if another niche is close enough, you can bring your team more work, another level of expertise, and the company a whole new stream of revenue.
Feel like you will need help negotiating your business sale but don't have an investor like Perry did? We can be there for you. Give us a call today.
https://www.kcapex.com/wp-content/uploads/2023/01/mark-williams-5hvWQ5Xuji4-unsplash-1000x750-1.jpg
750
1000
Apex Business Advisors
https://www.kcapex.com/wp-content/uploads/2015/06/ApexBusinessAdvisorsLogo-216x130.png
Apex Business Advisors
2023-02-13 06:00:19
2023-01-26 11:57:43
Case Study #71: Web Design for Therapists