Case Study #65: Smoke 'em While You Can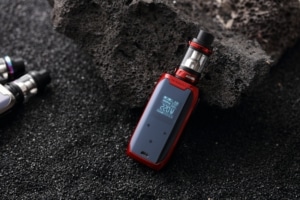 In 2015, Lorenzo de Plano and three other business partners started a business in the janitor's closet of a Los Angeles parking garage. By late 2018 their business was doing $1-2M a month in topline revenue with a 40% margin. Not long after that, they exited for a cool $15M. Their business? Solace Vapor, which "specializes in the production, manufacturing, and distribution of unique nicotine supplements to replace conventional combustible cigarette usage." Lorenzo helped build a vaping company.
Bootstrapped in a Wild West Marketplace
Vaping was already well underway by 2015, so Solace wasn't trying to take over the marketplace. Instead, they took advantage of the research already done by Big Tobacco, which had filed numerous patents over the years around adjusting the pH levels of tobacco. By focusing on adjusting the pH levels of the liquid (often referred to as "juice" in the vaping community) as well as the size of the cartridge, Solace focused on serving a particular niche of the vaping market.
This community was 35 and older and weren't interested in making the big, obnoxious smoke clouds delivered by the large devices. They wanted something smaller and discreet. Less of a "statement" and more something to enjoy. They took their ideas to the manufacturers to help create smaller devices and they had a couple takers.
Their first year they burned through all their cash (they each put in $5k) and went into credit card debt. But before too long they were off to the races.
When the government doesn't regulate something, it's often a "wild west" scenario, and to some extent, the vaping/e-cigarette market in the United States still is. This is due to the fact that many saw this as a gold rush of sorts and hence did not file paperwork with the FDA, thinking that when it came time for regulation they would just shut down and declare bankruptcy. In the meantime, they planned to "smoke 'em while they could," and make as much as possible.
Those who took the time to actually put together applications with the FDA ended up with the most severe financial penalties (that story, and thoughts on why those who try to follow the rules get punished, are for another time).
Regulatory Event
Just as insurance providers prepared for the regulatory event of what was then called Obamacare, those in the e-cigarette and vaping space were considering their next moves as it became clear that there would be some regulatory action from the federal government.
Lorenzo and his partners (now just three, as they had already bought one out some time before) knew that this regulatory event would compress the company's valuation, but they thought their venture would make more sense inside the portfolio of a larger company that had the pockets and the stomach for a regulatory fight.
They took the business to market and engaged with four serious buyers, got LOIs from three, and went the full way on due diligence with two of them.
They ended up taking the slightly lower offer that gave them a chance to grow within the structure of another company rather than simply being paid off and dismissed. In this case, only three years into the business, they weren't sick of something they wanted to get rid of, they simply wanted help, and wanted to take some money off the table in the process.
The payday? $15.25M, $8.25M which was upfront in cash, with the rest in restricted stock. They had to divest or sunset any assets of the business that dealt with cannabis or CBD as the acquiring company did not want to have that part of the business.
Lessons
Lorenzo's story from startup to sale is not a long one, but it's full of helpful lessons:
Be flexible about partnership

. As we noted, the company started with each founder taking 25% and giving equal amounts of capital to start the business, but they agreed that those percentages could change based on life events or changes in who was contributing what. Because they had worked out a way to value the business, when it came time to buy out a partner who had to move on with some other personal needs in his life, the transaction was seamless.

Be clear on the type of exit you want

. Lorenzo turned down a higher offer because he didn't want

a "walk away" transaction

. He was hungry to keep building the business, but he wanted to do it with help, so he took an offer that was lower at the outset, but with the chance to grow the business, could end up being a much more lucrative one in the long-term.

Think well on regulatory events

. Lorenzo saw this problem coming in 2018, but the federal government, slow as it was, didn't start making big moves until years later, with some of their biggest moves,

removing JUUL e-cigarettes from the US market

, didn't come until 2022. Don't wait for regulation to happen to your business. Be proactive and engage with someone who has a vision for what to do within the context of future regulation.
While we may not have a vaping business to sell you, we do have plenty of other smoking-hot deals here at Apex. Give us a call and we can share them with you!
https://www.kcapex.com/wp-content/uploads/2022/08/vaporesso-M8CrCzlS78Y-unsplash.jpg
1280
1920
Apex Business Advisors
https://www.kcapex.com/wp-content/uploads/2015/06/ApexBusinessAdvisorsLogo-216x130.png
Apex Business Advisors
2022-08-22 06:00:42
2022-12-24 10:37:46
Case Study #65: Smoke 'em While You Can