Case Study #57: Built to Sell from the Start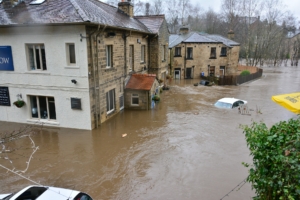 In the early days of starting his company, Olympic Restoration, Kevin Waldron went to a seminar in which Michael Gerber was speaking and heard Michael say that if a business owner had to be there every day to open and close the business, that wasn't a business: it was a job.  Right then and there he resolved to build a business the right way so that one day he could sell it, if he wanted to.
Kevin started out in the flood/fire/disaster restoration business working as an employee.  His boss was a real jerk to his staff and didn't pay his taxes to the government.  Kevin got out of there as quickly as he could, using the reasoning that has launched probably millions of businesses: "If that jerk can do it, I can definitely do it better."
Professional from the Start
The first step in creating a business to sell was not naming the company after himself.  He knew that could affect valuation in the future.  He also knew that the reputation of most companies in his industry: a mom and pop operation with a couple vans in which the owner usually answered the phones.  Instead, he hired someone to answer the phones early on to give the appearance of professionalism and people noticed.
Industry Changes
Kevin started in the industry in 1988 and ended up selling his business in 2005 so he saw a lot of changes happen.  But the key one was in service.  In the beginning the insurance agencies who hired him simply wanted their customers taken care of.  "We're sending over Kevin and his team and they are going to take care of you."  Let's be honest, as consumers, after sending all those insurance payments over the years, we want to get taken care of.  But the property and casualty industry was the last sector to adopt the cutthroat tactics of the health insurance industry, i.e. doing "surveys" and then telling companies like Kevin's that they were going to pay $XX.yy for a given type of service, no more, no less.  Oh, and while you're at it, you're going to start doing the work (making site visits, taking photos, etc.) that we used to pay adjusters to do.  No, we're not going to pay you extra for that.
These changes squeezed his margins, for sure, but it wasn't bad enough to push him out of the business.  He kept growing his team and his business.
An Unsolicited Offer
Many business owners first start thinking about selling their business when they get an offer out of the blue.  In this particular case, since Kevin had always been planning to sell the business, this wasn't a trigger for him.  He asked his business coach for advice and he was told, "Tell them you have no intention of selling, and if they are okay with that, you can go as far as they would like."
That's exactly what Kevin did and at the end of the process he said, "Thanks but no thanks" and things stayed cordial between all parties.  At the time Olympic was doing $6-8M in annual revenue and the offer was 4X EBITDA on 75% upfront and 25% earnout.
Now, It's Time
But all business owners who successfully sell can tell you at some point you know it's time to go.  Sometimes there's a dramatic event or aha moment.  Other times you just wake up one day and realize you don't want to fight the insurance companies anymore and want to do something else.  That happened to Kevin one day and that fatigue probably led to his biggest regret in this process: instead of taking the business to market he simply called the company who he had gone through the process with years ago and leveraged that cordial relationship.  They were 7-10 days to an LOI, and then closed in 45 days.  The changes from the original offer from the past was no earnout as Kevin wanted to be gone immediately and because he was now doing $24M in annual revenue, his payout was much stronger.
Lessons
We always tell business owners that if you build to sell, it'll be so much easier if and when you ever do that.  All businesses either close or sell.  There are no other options.  Some other lessons from Olympic Restoration:
Be thoughtful about your name.  While there's definitely family pride in having your last name on the business, it can make things more challenging if it doesn't end up being a

family business

and you want to sell.

Keep on good terms with potential acquirers.  While Kevin knew he didn't want to sell at the time of the first approach, he kept such a cordial relationship that he was basically able to call his shot when he was ready to sell.

Go to market.  Kevin has said that if he had to do things all over again, he would have definitely gone to market with his business.  It may have ended up with the same buyer anyway, but on even better terms than he ended up getting.
Is your business built to sell?  If so, is it time to talk about selling?  If not, we would love to give you some advice on how to get ready for a sale some day.  Give us a call.
https://www.kcapex.com/wp-content/uploads/2021/11/chris-gallagher-9Jgn8hSYUFc-unsplash.jpg
1280
1920
Apex Business Advisors
https://www.kcapex.com/wp-content/uploads/2015/06/ApexBusinessAdvisorsLogo-216x130.png
Apex Business Advisors
2021-12-20 06:00:12
2021-11-30 13:51:54
Case Study #57: Built to Sell from the Start