Case Study #55: Stats That Pay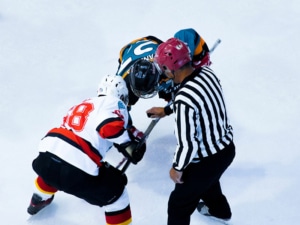 Cary Moretti never planned on starting a sports stats business.  He was working in IT and had helped a couple of his clients which were semi-pro hockey teams get a website up and running when they asked for help with keeping track of stats.  That "yes" turned into deals with other teams, then the league of those teams, then other leagues.  By the time he sold League Stat to industry leader Hockey Tech fifteen years later, he had 27 employees.
The Business Model
What's fascinating is that Moretti started his business in the 1990s, before the Internet was what it has become in our lives and certainly before sports teams considered 24/7 fan access to real-time stats something worth investing in.  
Since the business started with one-off clients, Cary wasn't actually sure about pricing.  He essentially guessed and scraped by, but as his first league deal came in, he realized he had to change how he priced.  He created two different services under the New Sport Media brand: League Stat, which provided software that allowed teams and leagues to enter in the relevant data and display it to anyone who wanted access, and Professional Services, which answered the "but we also want the software to do this" demands of individual teams.  Even though SaaS was in its very early days, Moretti knew he couldn't add features to a core software offering just because one or more users wanted it.  
The pricing for each league was bespoke and varied based on, among other factors:
Touch points offered

Number of visitors

Number of teams tracked

Amount of data stored
The Right Fit
Moretti confesses that it took him four years to realize that certain calls he would get were people asking if he was open to an acquisition.  When that finally clicked, he zoned in on what really mattered to him: someone who was going to significantly grow what he had built.  That acquirer needed to have a lot of money to scale the business and to give it the attention it deserved.  
The eventual acquirer, Hockey Tech, gave him a starting offer of 1X annual topline revenue.  Cary traded deal points with them and worked up from that number, but eventually what resulted was a delayed sale: Cary would stay with the new company for a minimum of twelve months, would be on a contract with conditions that made him almost impossible to fire, and even had some equity in the new firm.  He simply needed to make sure the transition happened well and that the new business had what it needed as it grew and expanded.  After the twelve months passed, the deal would officially close and the cash would hit his account.
Lessons
Cary and his minority partner sold League Stat, but New Sports Media had to keep going, and the partner took over day-to-day there while Cary finished up his time at Hockey Tech.  As he looks back at all that happened, he has three major takeaways for business owners:
Find a mentor

.  There were so many times that Cary really had no idea what to do, and as a result, almost went bankrupt twice, despite having a service that customers enjoyed and wanted.  The right advice would have made a big difference for how the company grew and eventually got acquired.

Ask yourself what you want

.  While the money was nice, Cary was really motivated by seeing the possibility of watching his "baby" grow into something more than he could provide with his experience and capital.  That shaped the match with the acquirer.

Tell the customer what they want

.  By staying strict about what was the coreline offering of League Stat, but also creating the Professional Services arm of New Sports Media, Cary simultaneously stayed focused on a winning formula while saying "yes" to opportunity.  This can be more easily done with the right kind of partner, which Cary had.
Whether you are looking to buy or sell a business, it's important to be clear on what it is you want out of the opportunity.  Money matters, but it can't be the only reason.  Call us to share your thoughts; we'd love to chat with you.
https://www.kcapex.com/wp-content/uploads/2021/09/yifei-chen-QWsdUMj8amc-unsplash-web-featured.jpg
600
800
Apex Business Advisors
https://www.kcapex.com/wp-content/uploads/2015/06/ApexBusinessAdvisorsLogo-216x130.png
Apex Business Advisors
2021-10-18 06:00:39
2021-09-29 15:04:38
Case Study #55: Stats That Pay