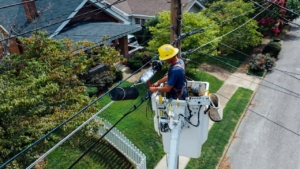 When he was only 15, due to circumstances outside of his control, Mike Agugliaro was living with his brother, only 2 years older than he was.  They had to learn how to pay bills and live on their own without too much support or help from their parents.  Despite this challenging situation, Mike graduated from high school and decided to go into the trades, electricity specifically.  He couldn't have imagined that two decades later, he would sell his own general contracting business, Gold Medal Service, for tens of millions of dollars.
Build a Better Mousetrap
Like anyone fresh out of vocational school, Mike went to work for one of the electricians in his area.  The business was run so poorly that Mike thought, "if this guy can run an electrical company, surely I could do a better job."  He reached out to a close friend who had a solid job: "Look, I don't know anything about business, but I can be an electrician," Mike said.  "Let's be 50/50 partners and you run the business side."  Thus began a partnership that in its first decade was generating almost a million dollars of annual revenue.
But there was a price to be paid: they were both working seven days a week, and at one point Mike's partner threatened to quit and Mike had a vision of repeating the mistakes of his father: working so much that he never saw his family.  He took the weekend off, took a hard look at everything they were doing, and decided to hire people who knew how to make his company better and listen to everything they had to say.
Game Change
One of those new contacts arranged for Mike to visit an electrician doing $10M annually in neighboring Pennsylvania (Gold Medal was based in New Jersey) and while Mike thought the uniforms looked nice, he didn't think the electricians they had were that great.  The experience inspired him: he already had the great electricians, he just needed to build a better business.
This led to three obsessions that changed everything:
Marketing
Customer Service
Billing Immediately
His first marketing move was to get a double truck ad for the Yellow Pages (remember those days?).  He went from spending $500/month in that channel to $50,000/month.  Having such an ad telegraphed to potential customers that he was the best company (they were the first listed, and look at that ad, etc.).  Most business owners were afraid to spend and didn't understand the different channels.  Mike wasn't afraid to spend and got focused on learning each of those channels, looking for his target customers.

When it came to customer service, he made sure his team members were answering the phone with excitement and energy, and had the tools to upsell and cross-sell.  Yes, someone might be calling about an electrical problem, but Gold Medal also helped with plumbing issues.  Often people called having a terrible day (power might be out or a toilet might be stopped up), and the team always tried to assure those clients that it would be a better day when they had a chance to fix the problem.
Finally, to balance his cash flows out as he accelerated his spending on marketing, he decided he wasn't going to play by the "rules" when it came to paying for services.  "When you go to a restaurant and eat a steak, do you tell the waiter to send a bill and that you'll get to it 90-120 days?" Mike asked.  Gold Medal instituted a "pay when the job is completed" policy and customers went along with the policy.  Mike changed the rules of the game.
Exit
When it came time to sell, Mike and his partner didn't want to stay on.  They made the case to the buyers that the team had been running the company for years.  With $32M in annual revenue, 165 trucks, 200 employees, and double digit profit margin, it wasn't that surprising.  The sale only took 45 days to close and on that 45th day Mike and his partner gave the team an emotional farewell and moved on to new adventures.
Lessons
As always, every exit has lessons any business owner that wants to sell should take to heart.
Make your own rules

.  Mike didn't want to deal with long billing cycles.  So he delivered such great service that his customers accepted his "pay when completed" rules.

Be brave

.  Mike probably never planned to 100x his spending on Yellow Pages, but his mentors encouraged him and showed him what would result.  While others were afraid to increase his marketing spend, Mike went all in.

Stand out

.  A lot of his competitors just went about the business of being in business.  They didn't stand out in the marketplace.  Mike led with customer service and the word spread.

Make the hard changes

.  After his first ten years in business, Mike nearly lost everything because he wasn't getting help from top performers.  He sought that help, made the changes, and reaped the rewards.
Are you where Mike was at the end of his first decade in business?  Do you want your next decade to be, as his was, 32 times better, with a fantastic exit at the end?  We'd love to help achieve a dream exit.  Give us a call!
https://www.kcapex.com/wp-content/uploads/2021/06/pexels-kelly-lacy-2898199.jpg
719
1280
Apex Business Advisors
https://www.kcapex.com/wp-content/uploads/2015/06/ApexBusinessAdvisorsLogo-216x130.png
Apex Business Advisors
2021-06-23 06:00:49
2021-07-21 15:57:17
Case Study #51: Gold Medal Service, Gold Medal Exit