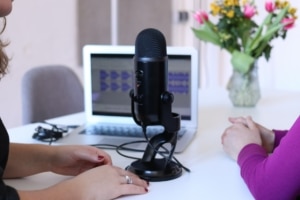 In 2020 more than 100M Americans listened to a podcast at least once a month.  While some of that might be attributed to staying at home more, that number was the culmination of a 54% growth in popularity of the medium over the preceding three years.  39% of small business owners listen to podcasts, and of them, 65% listen weekly.  Podcasting continues to grow in popularity, and like any platform, it can be used to benefit your business.
1. A podcast provides effective, persistent, low-cost marketing
There are all sorts of ways to get your business in front of potential customers.  They can vary in cost and most of them disappear after you have finished paying for them.  But podcasts (like blogs) are persistent.  They show up in relevant search results for your business and will be searchable for a long time to come.
While the low-hanging fruit of a podcast is interviewing current clients and vendors and other inspiring people in your orbit, a well-known technique is to invite a potential client onto a podcast.  By inviting such a person to share his/her expertise, you also give that person an opportunity to know you better and potentially do business with you in the future.
2. A podcast increases your authority and number of opportunities
While "podcast host" doesn't quite have the cachet of "author" it does indicate you're someone who is comfortable chatting with almost anyone and as a result, you'll have a chance to meet and talk to people you might not otherwise have been introduced to.  Your friends and colleagues will start identifying potential good guests for you.
3. A podcast improves your brand associations
Hosting a podcast gives you the opportunity to demonstrate credibility to people who may have never heard of you before without giving away all the "secret sauce" your company has.  You can be helpful to people who would not have become clients but who can refer you to people who would be.  By being generous with your knowledge, you'll often find generosity in return.
4. A podcast is straightforward to start and maintain
Many of us grew up in a "radio" era and so we take some of those associations (expensive equipment, professional studio) and overlay those onto our expectations for podcasts.  This is simply not the case.  If you have a computer, a decent microphone, a quiet place to record, and podcasting software, you've got everything you need to get started.  Of those, the only two you might need to obtain are a microphone (very good ones can be had for $100) and podcasting software (prices vary between $5-$25/month).  
If someone on your team can't be tasked with editing the audio and typing up some show notes, there are plenty of freelancers who can do that for you at very reasonable rates.
5. A podcast can fit into your schedule
Whether you choose to do an interview or monologue style podcast, you simply need to set aside some time to jot down some notes on what you're going to speak on and then the time to record.  If you don't have any margin in your business life to do that, there are bigger problems looming than the ability to create a podcast.
6. A podcast accustoms you to public speaking
We don't all have frequent opportunities to speak in public.  Podcasting, like Toastmasters, provides you with practice.  You'll find yourself cutting out "ums" and "ahs" when you hear them played back to yourself, and you'll find your listening and questioning skills improving as you interact with different guests.
7.  A podcast is a chance for you to have fun
All things considered, people prefer to do business with those they know, like, and trust.  A podcast gives you the chance to put a human face on your business, and, when appropriate, "let your hair down" a bit.  You'll be surprised how much fun you can have (and how much value you can add to others) once you get started.
If you still need some encouragement getting started on a podcast, we can refer you to a few people we know who are doing well with it.  You might even get on their podcasts!  Give us a call.
https://www.kcapex.com/wp-content/uploads/2021/06/cowomen-UUPpu2sYV6E-unsplash.jpg
1280
1920
Apex Business Advisors
https://www.kcapex.com/wp-content/uploads/2015/06/ApexBusinessAdvisorsLogo-216x130.png
Apex Business Advisors
2021-07-05 06:00:19
2021-07-21 15:52:26
7 Reasons Your Business Should Create a Podcast