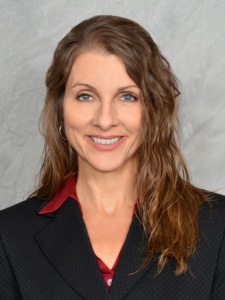 Karen Callahan is one of the newest additions to our team here at Apex. She brings passion and experience with data and tech businesses to complement many of the other skills we have among our brokers.
Like many on our team, Karen was an entrepreneur at various times before coming to work with us.
She has (and still does) financial analysis and projections for some large companies. Before that, she also had a buy-and-flip real estate business. To help pay for college she owned a carpet cleaning company and also sold carpet.
But Karen's also had experience in corporate America. After obtaining a dual BA in mathematics and computer science, she worked in data analytics for an insurance and banking firm. Her husband also worked for the same company and it was a transfer to the Kansas City area that brought them and their four children (2 boys and 2 girls) here some years ago.
Karen's Role at Apex
She's taken the same attitude towards her new role as a broker that she has towards her life and business: Understand and learn as much as you can first. We have some key training that we do here in the office. She's also getting involved on deals with her fellow brokers who've been with Apex for 10 years or more, learning how to manage deals to a successful conclusion.
When asked what makes her better qualified to work on deals for tech companies, Karen responds, "Because of my educational and work background, I understand the vocabulary they are using to talk about their businesses. Even if I don't know what their business does at the outset, I can understand it quickly. I'm able to speak their language: technology doesn't intimidate me." She also relishes the chance to dive back into entrepreneurship through business brokering. "I love having the freedom to pursue pathways that make sense for me in order to earn and retain clients. It's exciting!"
Karen's passions outside of work include fitness training, gardening, and blockchain technology.
Please join us in welcoming Karen to the team!
https://www.kcapex.com/wp-content/uploads/2019/09/Apex-Business-Advisors_Karen_Callahan.jpg
800
600
Apex Business Advisors
https://www.kcapex.com/wp-content/uploads/2015/06/ApexBusinessAdvisorsLogo-216x130.png
Apex Business Advisors
2019-10-01 06:00:52
2019-09-10 10:46:16
Know Your Broker: Karen Callahan