How to Navigate an Unsolicited Buy Offer for Your Business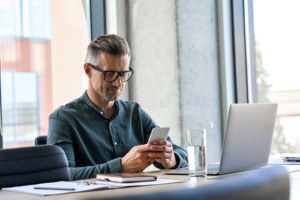 You get an email or a phone call wondering if your business is for sale. It certainly wasn't. In fact, you hadn't even thought about selling your business for years to come. But then… an idea starts germinating. What if I could sell my business? Unsolicited offers for businesses are made every day, and this article will help you do a bit of preparing for what happens if you get that call.
Feeling Good
Part of the magic of getting such an offer is feeling good. Running a business is a challenge and such an offer is a validation of your hard work. But, an offer isn't always an offer. Sometimes it's a fishing expedition. So too we as brokers sometimes make calls to businesses we find interesting, not necessarily with an offer, but with the question of, "Have you ever thought about selling your business?"
Wheels Start Turning
These sorts of phone calls, even if answered with an emphatic "No," lead to wheels turning. Entrepreneurs weigh up how they've been feeling about the business lately. They think about a number that they would like to sell the business for. They think about what they would do with the money from that sale and the free time they might have.
We can't tell you the number of times that a relationship started with a client because someone called them with an unsolicited offer. Whether that offer was genuine or fishing, whether it happens or falls through, a snowball has started in the potential seller's mind.
Have a Conversation
Even if your answer is "Yes, I'd like to sell my business," you need to bring in help. First-time sellers in particular have no sense of how much time it will take to close the sale and can underestimate the importance of having an unemotional negotiator by their side with lots of experience in business transactions.
Interview some business brokerage firms and let them know the situation. The best ones will do a back-of-the-envelope valuation with you to level-set before pushing for a professional valuation. Once that's done, they can engage with the original unsolicited buyer about a now-established price and find out how serious he/she is.
That initial process might also uncover some opportunities. A broker might note areas that could be improved that would drive up value significantly in a short amount of time. Instead of pursuing a transaction with the unsolicited buyer, the company could be put into a process that will have it ready to go to market and court multiple buyers, not just one.
However, these conversations may also reveal that a business owner isn't ready to be a seller…yet. But armed with more information, he/she now knows what needs to be done before a sale and now has a broker to periodically check back in with to find out what market conditions are like and what buyers have been sniffing around their industry.
So, if you get an unsolicited offer (or a cold call from a broker), a cautious congratulations! You've gotten some attention. You've built something that might be worthy of a sale. But now it's time to look under the hood yourself and ask some searching questions about your life. And confer with your trusted advisors and a broker. It might just be that the unsolicited offer leads to a wonderful exit. Or if not, it gets you mentally prepared for the future.
Want some advice on those unsolicited offers or how to prepare for that call? 
We can help! Give us a call.
https://www.kcapex.com/wp-content/uploads/2023/04/smartphone-ponder.jpg
334
500
Apex Business Advisors
https://www.kcapex.com/wp-content/uploads/2015/06/ApexBusinessAdvisorsLogo-216x130.png
Apex Business Advisors
2023-04-17 06:00:15
2023-04-06 10:41:14
How to Navigate an Unsolicited Buy Offer for Your Business