Book Club #27: The Barstool MBA, by Dan Maccarone and Bob Sullivan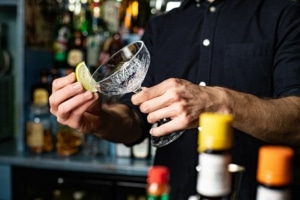 Let's face it, a lot of business books are pretty boring and can be a lot shorter.  Part of why we have this book club series of articles is to steer you away from those (Good to Great, anyone?) and towards books that won't feel like a college assignment and offer thoughtful reflections and sometimes, good advice.  The Barstool MBA: Why Running a Bar Beats Running to Business School is one of those books.  Co-authored by successful bar owner Dan Maccarone and best-selling author Bob Sullivan, this book is unconventional from the start: it's only available in audio format.
A business-oriented title from the Audible Originals series, this 8.5 hour listen features both authors reading, as well as a "tip jar" section at the end of each chapter offering summary and a few "tips" to crystallize what you've just heard into ideas you might implement or try.
If you've ever worked in a bar, you're going to enjoy some of the stories that are shared.  If you've never worked in a bar, you're going to get a much better appreciation for all that goes into making your time at one enjoyable.
The book takes us from pre-opening, to opening, to closing and/or selling a bar.  While we follow one particular project of Maccarone's, a NYC bar named Destination, the authors have correlating stories of other NYC bars to offer context to their lessons, as well as stories of other tech startups and exits to help you see the through line of their "earned at the bar" lessons running all the way to Silicon Valley.
So, here are a few bar snacks to get you interested in giving this book a listen:
Chapters 1 and 2 are very much about beginning with the end in mind.  While we may think of a bar as just a place to relax with some friends, the best ones are memorable to you, ones that you describe to others, as a place "you just have to go" to.  Those places have applied a forensic level of intentionality to what the bar will be and how customers will feel inside it, in other words, the customer journey.  This can include:
What will happen on slow nights?

  Will there be live music, games, food promotions?  Each of those possibilities brings a different kind of crowd that may or may not mesh with what the bar is and stands for.

What sort of drinks are you serving?

  If you're trying to hawk independent beers, carrying any of the major brands can undermine your legitimacy.  If you're serving high end cocktails, how competent are your bartenders with those drinks?  The bartenders themselves — are they the type that not only get you regulars but have those regulars tell their friends?
Chapters 5-15 are the heart of the book and discuss everything from employee theft (it happens very often) to "not drinking at your own bar" (which is less about getting drunk and more about remembering that you may not be your own customer) to getting one-star reviews (as we have said, how you respond is almost as important as what the original reviewer said).  A couple highlights include:
Buyback analysis

.  Regulars and good customers get "buybacks," or free drinks or food at some point.  What you might not know is that this isn't random.  A great example that is shared is of the customer who is, without fanfare, getting up and putting a jacket on, but suddenly finds a fresh drink or an unexpected snack delivered to them.  He/she shrugs his shoulders and, not in a rush, sits down to the buyback, which inevitably leads to another purchase of food or drink.  The best bartenders are always observing when a strategic buyback makes sense for someone they've never seen before, and the best bar owners make sure that there's a coherent buyback policy for regulars that everyone is on the same page about.

86ing customers

.  One of the great satisfactions of owning a business is being able to fire customers who are rude or who don't seem to understand boundaries.  Alas, this is a regular occurrence at a place that serves alcohol.  The various situations the authors share only serve to underline the poisonous effect that bad customers can have not just on other customers, but on employee morale.  Traditional businesses can really learn something from bar owners here.
Chapters 16 and 17 deal with closing a bar, and as business brokers, we're obviously interested in exits and how those come together.  You get insight into the end of the bar Destination, which you've followed throughout the book, but you also learn that business cycles and trends also affect the value and saleability of bars.  If you're the last Irish pub for sale when Irish pubs are on a downtrend, unsurprisingly your valuation will be lower, even if your numbers are great.
We think you'll enjoy this unconventional business book, and if you want a sneak preview via a short video of the authors, you can find one from Audible here.
Need other recommendations for books?  Check out our Book Club series.  Got one for us?  Give us a call and we might add it to this series.
https://www.kcapex.com/wp-content/uploads/2022/04/the-blackrabbit-0_3fTgYTkyw-unsplash.jpg
1280
1920
Apex Business Advisors
https://www.kcapex.com/wp-content/uploads/2015/06/ApexBusinessAdvisorsLogo-216x130.png
Apex Business Advisors
2022-04-25 06:00:25
2022-04-05 14:23:54
Book Club #27: The Barstool MBA, by Dan Maccarone and Bob Sullivan